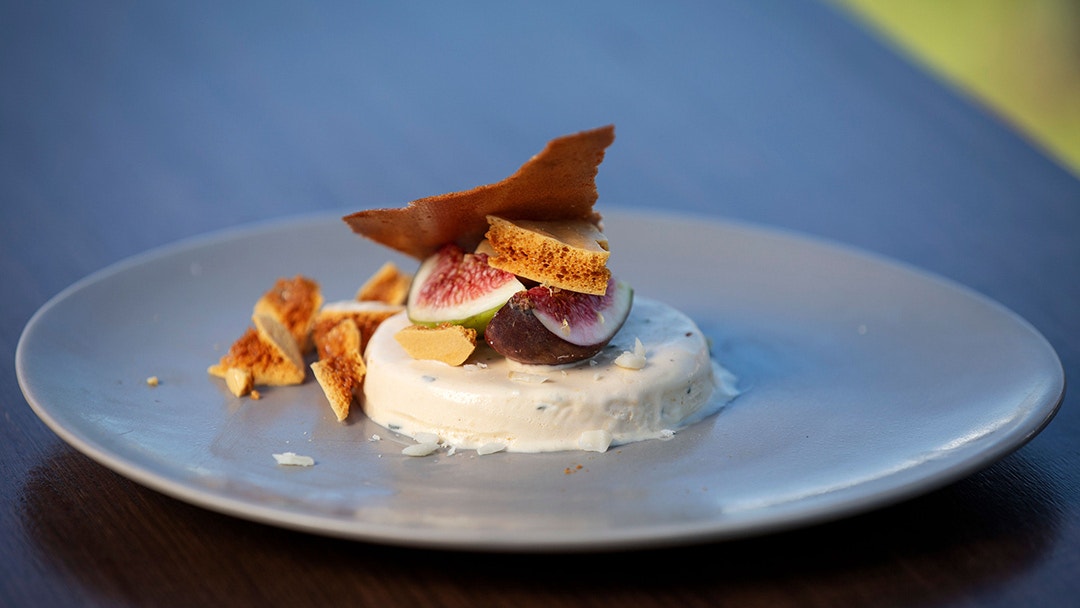 Steps
Preheat oven to 180C.
For the Honey Thyme Parfait, bring a medium saucepan of water to the boil.
Place 125ml honey into a saucepan over low heat. Simmer until slightly thickened and darker in colour, about 5-6 minutes then remove from the heat and set aside.
Meanwhile, place the egg yolks and egg into a medium bowl and beat with electric beaters until pale and fluffy. Place bowl over the simmering water and continue to beat for a further 2-3 minutes until thick and the mixture can form ribbons when the beaters are lifted out of the mixture.
Remove from the heat and add the burnt honey, additional 40ml honey, lemon juice, lemon zest and thyme and beat until cold and fluffy. Set aside to cool.
Meanwhile, place the cream into a clean bowl and whisk to stiff peaks.
Fold the cream though the cooled egg and honey mixture.
Place four 10cm round ring moulds onto a lined baking tray. Spoon the mixture into the moulds and place into the freezer until set, about 4 hours or overnight.
Unmould the parfaits onto a tray and reserve in the freezer until required.
For the Macadamia Honey Tuille, line a baking tray with a silicon mat or baking paper.
Place the egg white, sugar, honey and vanilla beans into the bowl of an electric mixer fitted with a whisk attachment and whisk until thick and pale.
Add the melted butter, plain flour and salt and whisk until smooth.
Use a pallet knife to thinly spread about ¼ cup of the tuille batter onto the prepared tray. Season with salt and sprinkle with macadamia nuts.
Bake in the oven until golden brown, about 10-12 minutes. Remove from the oven and set aside to cool. Break into shards to serve.
For the Honeycomb, line a small roasting dish with baking paper and set aside.
Place the caster sugar, glucose, honey and 20ml water in a saucepan over medium heat. Cook until mixture reaches 155C.
Remove from the heat. Add the bicarb soda and whisk vigorously until mixture bubbles.
Immediately pour into the lined dish and set aside to cool and harden. Once hard, use a serrated knife to cut into chunks for serving.
To serve, remove the Honey Thyme and Lemon Parfaits from the freezer. Place onto serving plates and top with figs. Add some Honeycomb and sprinkle with lemon zest. Scatter with macadamias and finish with a Macadamia Honey Tuille.