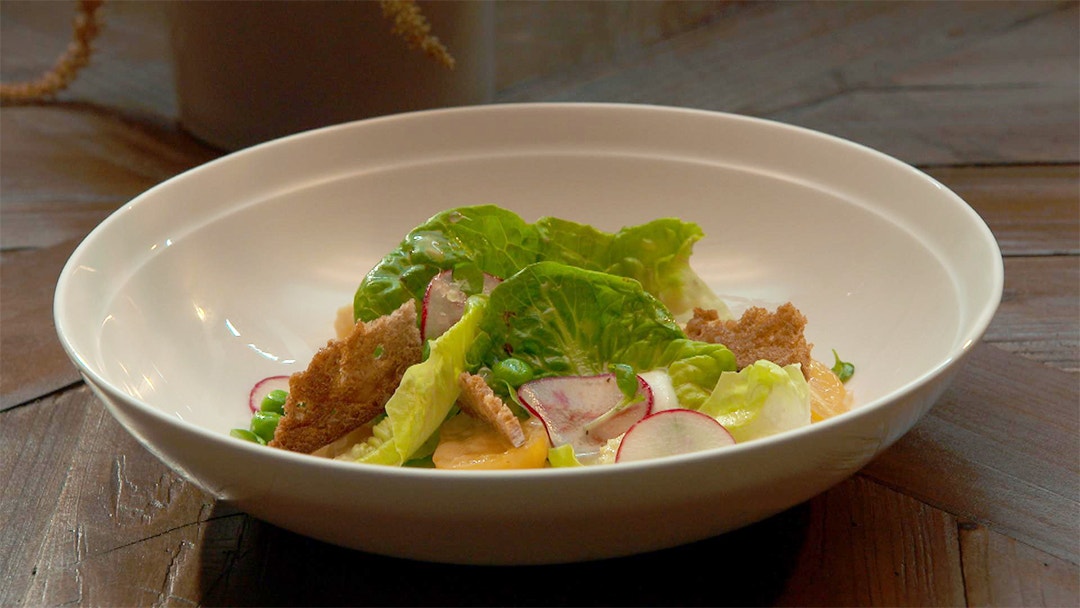 Steps
For the Honey Gel, combine all ingredients except agar agar in a medium saucepan. Bring to boil to dissolve the honey. Add agar agar and whisk continuously while boiling for another 30 seconds. Remove from heat and pour mixture into a shallow tray. Place into the fridge to set. Cut honey jelly into smaller pieces and place into canister of a stick blender and process until smooth. Pass through a fine sieve then transfer to a piping bag. Set aside.
For the Honey Vinaigrette, place the kombu, tea and 1 cup water into a small saucepan and bring to the boil. Remove from the heat and allow to steep for 5 minutes. Strain through a fine sieve and discard the solids. Place remaining ingredients into a blender along with 2-3 teaspoons of the strained kombu tea to balance the sweetness. Blend on medium for 1 minute or until thoroughly combined. Season with salt and pepper, to taste. Set aside.
For the Goat's Cheese Mousse, place the goat's cheese and 50ml of the cream into the bowl of a stand mixer, and beat with the paddle attachment until smooth. Add the honey and beat until incorporated.
Whisk the remaining cream in a bowl until soft peaks form. Fold through the goat's cheese mixture then transfer to a piping bag and set aside in the fridge.
For the Vegetables, bring a small saucepan of salted water to the boil. Prepare an ice bath in a medium bowl.
Remove the leafy tops of the radishes, wash thoroughly and slice in rounds using a mandolin. Set aside in the ice bath. Wash baby corn and cut into ½ cm thick rounds. Place a small fry pan over a medium heat, add the butter. Once the butter is melted, toss the corn in the pan for 30 seconds only. Remove corn from the pan, place into a bowl and season with salt.
Remove the peas from their shells and rinse under water. Place the peas into the boiling water for 1 minute then transfer to the ice bath (add more ice if needed.) Remove the outer leaves of the lettuce and discard. Gently separate the inner leaves and rinse under very cold running water.
Set all vegetables aside in the fridge until needed.
To serve, drain the radishes and peas and place into a dry bowl. Add the baby corn, dress with the vinaigrette and toss together. Dry the lettuce and dress with olive oil. Pipe some of the goat's cheese mousse onto each plate and top with a few cos lettuce leaves. Scatter the dressed vegetables over the lettuce. Pipe a few dots of honey gel over the plates. Crack the rye toast into smaller but not tiny pieces and arrange throughout each plate. Garnish with a sprinkle of finger lime pearls, basil and a drizzle of the vinaigrette. Finish with a sprinkle of salt flakes.