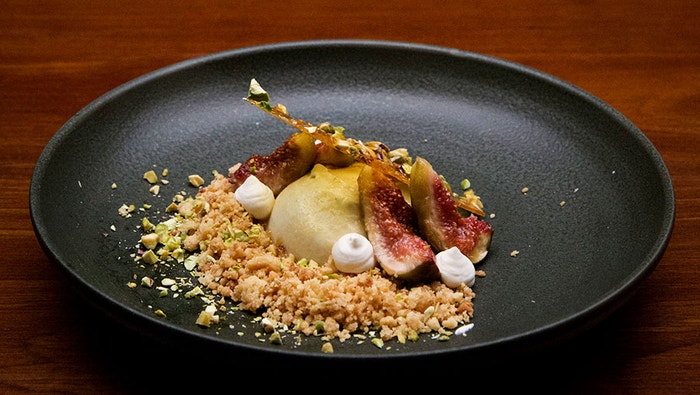 Steps
Preheat oven to 180C.
For the Mascarpone and Blue Cheese Mousse, place mascarpone cheese in a bowl and set aside. Place milk, sugar, and blue cheese in a small saucepan, set over low heat and cook until sugar has dissolved and cheese has melted. Remove from heat, add bloomed gelatine and stir to dissolve. Pour milk mixture into the bowl of mascarpone cheese and fold in, very gently, until well combined. Place, in fridge until set and ready to serve.
For the Honey Crumble, place butter, flour, sugar and walnuts in a food processor and pulse until just combined. Add cream and pulse until mixture resembles a coarse, wet crumb. Spread crumb on a paper lined baking tray and place in oven to bake until light golden, about 10 minutes. Drizzle with honey, stir and bake until golden brown, about another 5-10 minutes. Remove from the oven and set aside until serving.
For the Pistachio Praline, chop pistachio nuts roughly and spread out on a paper lined baking tray.
Place sugar in a small frypan and set over low–medium heat until melted and golden brown, swirling pan occasionally to prevent burning. Remove from heat and pour over the pistachio nuts and spread evenly and thinly. Set aside to cool then break into shards and set aside until serving.
For the Honey Roasted Figs, place butter and honey in a fry pan over medium-high heat and swirl pan to combine. Once mixture is foamy, place the figs cut side down in the pan and cook the figs, gently tossing and basting them with the sauce, until caramelised, about 8-10 minutes. Turn figs over and cook for another minute. Remove from heat and set aside both figs and cooking syrup, keeping warm, until serving.
For the Honey Cream, place the cream in a medium sized bowl and whisk using an electric mixer until soft peaks. Add honey and gently whisk until combined. Transfer to a piping bag and set aside, in fridge, until serving.
To serve, spoon a generous amount of the Honey Crumble onto each serving plate. Add a scoop of Mascarpone and Blue Cheese Mousse. Add Honey Roasted Figs and drizzle with the cooking syrup. Pipe dollops of honey cream and sprinkle with pistachio nuts. Garnish with a shard of Pistachio Praline.