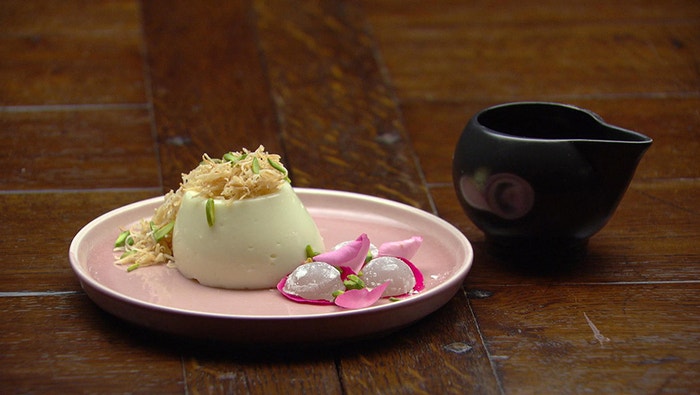 Steps
For the Rosewater Syrup, place all the ingredients and ¾ cup water in a medium saucepan and set over high heat. Bring to a boil, reduce heat and simmer on low-medium for about 10 minutes. Remove from heat and set aside to cool until needed.
For the Milk Set Custard, place milk, sugar, cardamom and saffron in a saucepan and bring to a simmer over medium heat. Once simmering, remove from heat and strain mixture into a clean saucepan.
Place saucepan over a low heat. Combine cornflour with 1½ tablespoons water whisk until smooth. Slowly add to saucepan while whisking continuously. Whisk until mixture thickens, about 8-9 minutes. Remove from heat and pour mixture in four x 5.5cm high x 3.5cm base pannacotta moulds. Place in fridge, until serving, to completely cool and set.
For the Kataifi, place all ingredients and 200ml water into the canister of a stick blender and blend until a smooth batter. Transfer batter into a piping bag and cut just the tip to create a small opening.
Heat a large non-stick frypan until very hot, pipe the batter onto the surface of the pan in concentric circles, keeping each strand separate and cook until batter has set, about 10 seconds. Remove from pan and set aside, to cool, on a wire rack. Repeat with remaining batter.
Once cooled, heat up extra grapeseed oil in the same pan and fry the Kataifi, in batches until crispy and golden brown. Remove from pan and drain on paper towel. Crush into small pieces and set aside until serving.
For the Turkish Delight, mix cornflour with 1 tablespoon water in a small saucepan and place over high heat, whisking continuously. Once mixture is very thick, add the Rosewater Syrup, one ladle at a time, whisking between each addition, until mixture is thick, glossy and slightly translucent. Cook for a further few minutes until mixture is a thick paste.
Meanwhile, dust a small silicone dome mould with cornflour. Spoon approximately 1½ teaspoons of the Turkish Delight mixture into each mould and place in fridge to set.
Once set, remove from fridge, dust the top of the Turkish Delights with more cornflour and remove from moulds. Set aside until serving.
To serve, unmould the Milk Set Custard into the middle of each serving dish. Add the crushed Kataifi and some fresh rose petals on top. Add the Soft Set Turkish Delight and sprinkle with slivered pistachio nuts. Serve with remaining Rosewater Syrup on the side.