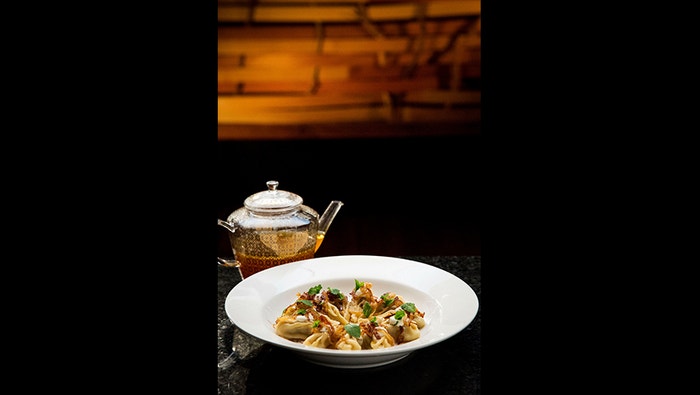 Steps
Place a large pot of water over high heat and bring to the boil.
For the Pasta Dough, place flour, salt, egg yolks and the egg into a food processor and process until the mixture resembles a crumb. Add water and process further until fully incorporated. Move the mixture onto a bench lightly dusted with some cornflour and 00 flour. Knead the dough for 2-3 minutes, then wrap in cling film and set aside for 30 minutes.
For the Saffron Broth, heat the oil in a stockpot over high heat. Add lamb off cuts and brown on all sides. Add onion and cook, stirring, until fragrant. Add filtered water, spices and salt. Bring to the boil, then reduce heat to medium and continue to cook for 40 minutes. Strain through a fine sieve, pour into a serving jug or teapot and set aside.
Meanwhile, for the Lamb Filling, melt butter in a frypan over medium heat. Add onion and sauté until fragrant and translucent, about 2 minutes. Add pine nuts and currants and continue to fry, stirring, for 2 minutes. Add the cinnamon and salt and cook for a further 1 minute. Take 3 teaspoons of the Saffron Broth, while it is still cooking away, and continue to cook until all liquid has evaporated. Transfer onion mixture to a bowl with minced lamb and mix to incorporate. Season with salt and pepper.
Unwrap the rested dough and divide into 3 equal pieces. Roll the dough out into sheets using a pasta machine working from the thickest setting down to the middle setting. Using a 7.5cm round cutter, cut out 10 rounds of pasta. Repeat with remaining dough.
Place 1 heaped teaspoon of lamb filling into the centre of each pasta round then run a wet pastry brush around the edge of the circle. To seal the dumpling, fold the top edge of the dough over the filling, then pinch one side of the dough over the other interchangeably to create a braid-like pattern. Repeat with remaining pasta rounds.
Working in batches, add dumplings to the pot of boiling water and cook until al dente and cooked through, about 8-9 minutes. Use a slotted spoon to remove the dumplings from the water and immediately sit them seal-side facing upward onto a tray lined with baking paper.
For the Caramelised Onions, place the onions and butter into a medium frypan and cook over a medium-high heat until butter is bubbling and onions have browned. Remove from heat and set aside.
For the Yoghurt Dressing, mix the yoghurt and salt together and spoon into a piping bag.
To serve, arrange the dumplings in a circle in the serving dish. Pipe a dollop of Yoghurt Dressing on top of each dumpling, top with Caramelised Onions and fresh mint leaves. Pour in the Saffron Broth when serving.