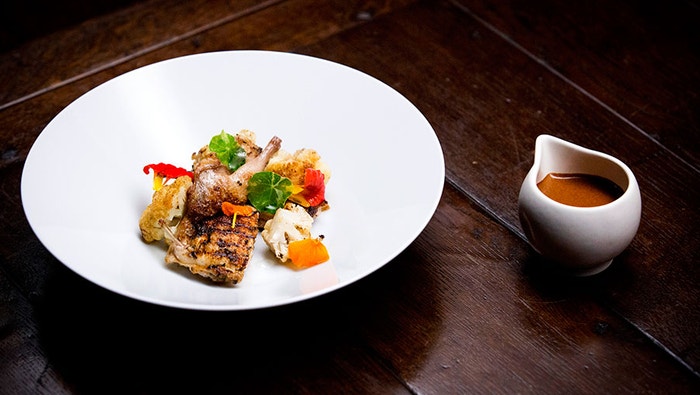 Steps
For the Red Eye Gravy, heat oil in a medium frypan over medium heat. Add onion and garlic and sauté until soft. Add bacon and continue cooking until bacon is crisp. Deglaze with bourbon and simmer until slightly reduced. Add instant coffee and 250ml of water then bring to the boil. Once boiling, reduce heat to low and simmer until reduced by 1/3. Add vinegar and maple syrup and stir to combine. Strain into a clean saucepan and season to taste. Set aside, keeping warm.
For the Butter Roasted Cauliflower, melt butter and oil in a small heavy based frypan. Cover the base core of the cauliflower with foil and add to the frypan. Tilt pan and baste cauliflower with butter and oil, until nut brown, about 30-35 minutes. Set aside in the pan, keeping warm.
For the Grilled Quail, heat a large griddle pan over high heat. Season quail with salt and pepper and brush with some oil. Place quail into onto the hot grill, skin side down, for 2 minutes then turn and cook on the other side for a further 2 minutes. Transfer to a paper lined baking tray. Place into the oven and roast until cooked through, about 3 minutes. Remove from the oven and set aside to rest for 3 minutes. Cut quail in half and sprinkle with salt.
To serve, break Butter Roasted Cauliflower into florets and arrange to the side on each serving plate. Add two halves of Grilled Quail and drizzle dish with some Red Eye Gravy. Garnish with nasturtium leaves and flowers.