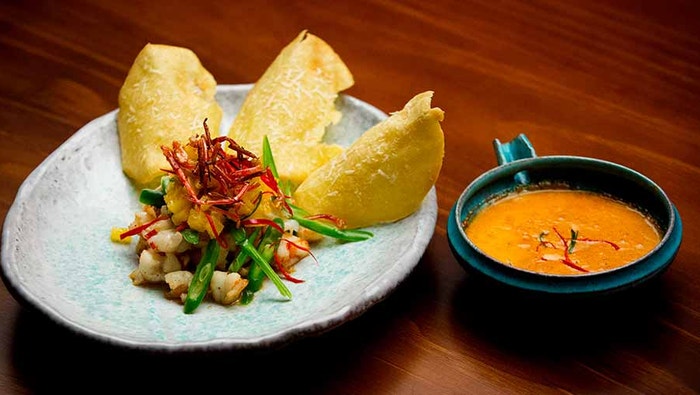 Steps
Preheat oven to 160C.
For the Caramelised Pineapple Salsa, heat the oil in a small frypan over medium heat. Add cubed pineapple and cook for 5-6 minutes, stirring occasionally, until golden. Add sugar and cook for a further 2 minutes, stirring, until pineapple has caramelised. Remove from heat, add sliced chillies and mix well to combine. Set aside until needed.
For the Parmesan Tuille, line a large baking tray with baking paper. Place egg white into a medium bowl and whisk to soft peaks. Add butter, flour and salt and mix well until smooth.
Spoon the batter into 12 by 8cm circles onto the lined baking tray. Sprinkle circles with the grated parmesan. Place into the oven and bake until lightly golden around the edges, about 8-10 minutes. Remove from the oven and, working quickly, lay hot tuille discs over a rolling pin to mould tuilles into a curve shape. Repeat with remaining tuille discs. Season tuilles with salt and set aside on a tray until needed.
For the Grilled Chilli Prawns, chop the prawn meat into small pieces and place into a small bowl with the chilli, oil and salt. Toss to coat and set aside in the fridge to marinate for 20-25 minutes.
For the Prawn and Anchovy Sauce, place oil to a medium frypan. Cook the prawn heads and shells until golden and crisp. Transfer to a food processor along with anchovy. Process to a coarse paste. Return the mixture to the frypan and add the cream and milk. Cook until slightly reduced, about 2-3 minutes. Strain sauce through a fine sieve lined with muslin cloth and transfer to a serving jug. Set aside until needed.
For the Deep Fried Prawn Legs, place oil into a small saucepan and heat to 170C.
Once oil has reached temperature, add prawn legs and fry until crisp and red in colour, about 2-3 minutes. Remove from oil and set aside on paper towel to remove excess oil.
To finish the Grilled Chilli Prawns, heat a griddle pan on medium heat. When the pan is hot, add prawns and cook, turning occasionally, until opaque and just cooked though, about 2-3 minutes. Remove prawns from the heat and set aside.
To plate, arrange the Grilled Chilli Prawns in a mound in the centre of each serving plate. Top with some Caramelised Pineapple Salsa, blanched and shredded beans and Deep Fried Prawn Legs. Add 3 Parmesan Tuilles to the side of the plate. Serve Prawn and Anchovy Sauce in a jug on the side.