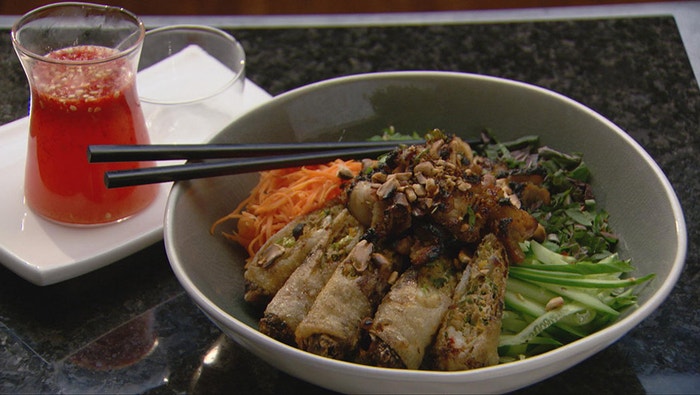 Steps
Preheat hibachi grill if using. Soak bamboo skewers in a shallow dish of water.
For the Grilled Pork, place the lemongrass, shallots, garlic and white wine into a food processor and blitz until smooth. Transfer to a large mixing bowl. Add remaining ingredients and stir well to combine. Cover and set aside for 30 minutes.
For the Noodles, place noodles into a bowl or saucepan and prepare according to package instructions. Once soft, drain and rinse under cold running water. Drain well and set aside.
For the Pickled Carrot, place carrot into a medium mixing bowl. Add sugar, vinegar and hot water and mix well until the sugar has dissolved. Place into the fridge until needed.
For the Nuoc Cham, place the lemon juice, chilli and garlic into a food processor and blitz until smooth. Transfer to a bowl and add the sugars and hot water then stir until sugar has dissolved. Add fish sauce and adjust to taste if desired. Set aside.
For the Spring Rolls, preheat oil in a medium saucepan or deep fryer to 180C. Place all ingredients, except for the prawns and rice paper, in a large mixing bowl. Mix well until fully incorporated. Add prawns and knead the mixture for 30 seconds to combine.
Prepare a clean work bench. Fill a large dish with cold water. Dip the rice paper into the bowl for 2 seconds then lay out onto the bench. Once the rice paper has softened, add approximately 2 tablespoons of the spring roll mixture into the middle of the paper and roll up tightly. Deep fry spring rolls, in batches, until rice paper is puffed and crispy and filling is cooked through, about 2-3 minutes.
To cook the Grilled Pork, heat a griddle pan over high heat. Thread pork onto skewers and cook, in batches, on hibachi or griddle pan until golden brown, about 1 -2 minutes on each side. Remove from heat and set aside, keeping warm.
For the Spring Onion Oil, thinly chop spring onions and place in a small fry pan along with oil and salt on low heat, fry until onions go soft, then remove from the heat. Spoon some on top of the grilled pork and reserve remaining for serving.
To serve, place bean sprouts and shredded lettuce in the bottom of each bowl. Place some Noodles on top followed by perilla, mint, Vietnamese mint and some cucumber around the edge of the bowl. Cut Spring Rolls in half on a diagonal and lay around the edge of each bowl. Add skewered sticks of Grilled Pork and place in the centre of the bowl. Garnish with the Spring Onion Oil and roasted peanuts. Serve with generous bowl of Nuoc Cham.