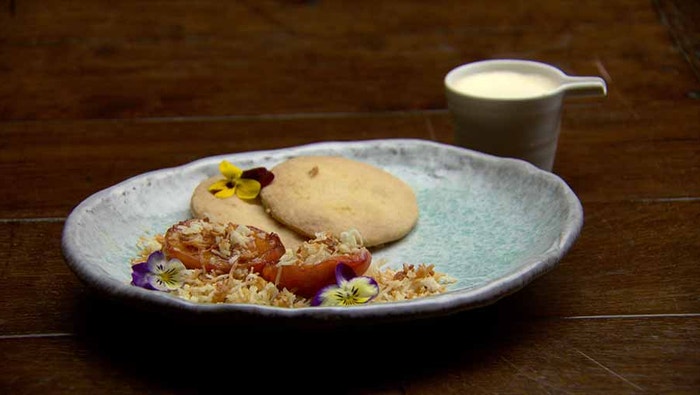 Steps
Preheat oven to 180C.
For the Earl Grey Custard, place milk and cream into a medium sized, heavy based saucepan. Add tea leaves, vanilla pod and vanilla seeds and stir to combine. Place over medium heat and bring to a simmer then remove from heat, discard vanilla pod and set aside.
Meanwhile, whisk egg yolks and sugar in medium bowl until pale. Gradually whisk the hot milk cream mixture into the egg mixture until well combined. Return the mixture to the saucepan and place over a low heat. Cook, stirring gently, until custard thickens and coats the back of a spoon, about 3-4 mins. Strain custard through a sieve into a clean small bowl. Cover surface with cling film and place in fridge to chill until needed.
For the Shortbread Biscuits, line a large baking tray with baking paper. Combine flour and butter in a medium bowl and use fingertips to rub together until mixture resembles coarse breadcrumbs.
Add the sugar and vanilla and mix together to form a firm dough. Wrap the dough in plastic wrap and place into the fridge to rest for 20 minutes.
Lightly flour a clean work surface. Unwrap rested dough and use a rolling pin to roll out onto the floured surface to a thickness of 3mm.
Using a 7cm round cutter, cut dough into rounds and place onto prepared tray and bake until light golden brown, about 15-20 minutes. Remove from the oven and allow to cool on the tray for 5 minutes. Transfer shortbreads from the tray to a wire rack and set aside to cool until needed.
For the Coconut Crumble, line a baking tray with baking paper. Place butter and sugar in a stand mixer fitted with a paddle attachment and beat until pale. Add egg white and beat until well combined and fluffy, about 2 minutes. Fold in the coconut until well combined. Thinly spread the mixture onto the prepared baking tray. Bake in the oven until evenly coloured and crisp, about 12-13 minutes. Remove from the oven and set aside to cool completely. Once cool, transfer to a chopping board and chop roughly. Set aside until needed.
For the Grilled Peaches, heat a griddle pan over high heat.
Place brown sugar into a wide bowl. Cut peaches in half and discard the stones. Dip the peaches, cut side down, into the brown sugar. Place the peaches, sugared side down, onto the hot griddle pan and cook until the sugar has caramelised. Turn peaches over and cook on the skin side for a further minute. Remove peaches from the pan and set aside to cool.
To plate, spoon Coconut Crumble along the left side of plate and top with Grilled Peach halves. Place Shortbread Biscuits onto the right side of plate. Transfer Earl Grey Custard into a small jug and serve.