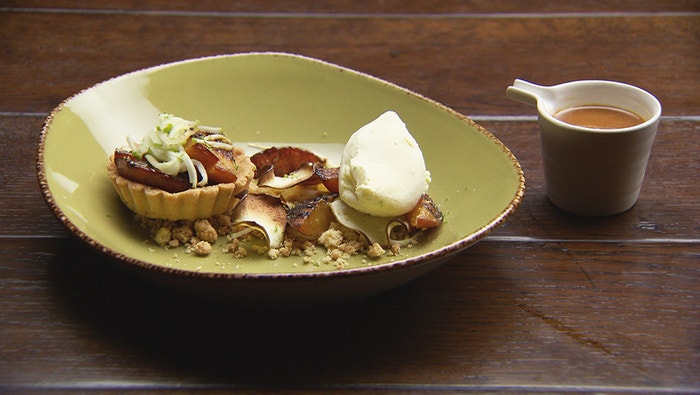 Steps
Turn on ice cream machine to pre-chill. Preheat oven to 180C.
For the Lime Ice Cream, heat milk, cream and zest in a small saucepan over medium heat and warm to just below boiling point.
Whisk the egg yolks and sugar in a separate bowl until light and fluffy. Add about half of the warm milk mixture to the egg mixture and whisk briefly to incorporate. Transfer the egg and milk mixture back into the saucepan with the remaining warm milk and cook until the temperature reaches 82C.
Once anglaise is at temperature, strain through a fine sieve into a metal bowl and place over an ice bath to cool. Once cool to the touch, transfer the anglaise to an ice cream machine and churn according to manufacturer's instructions. Once churned, transfer the ice cream to the freezer to set.
For the Tart Shells, pulse flour and butter together in the bowl of a small food processor until it resembles fine breadcrumbs. Add sugar, egg yolk and 3-4 tsp iced water and pulse several times until pastry comes together. Tip pastry out onto a clean bench top, lightly dusted with flour, and gently press together into a disc. Wrap in cling wrap and rest in fridge for approximately 30 minutes.
Once chilled, remove pastry from the fridge and roll out on a lightly floured work surface until approximately 3mm thick. Line 10 x 6cm base measurement, round, fluted tart tins with removable bases and patch any cracked areas with remaining pastry. Trim edges and place in the fridge to rest for 20 minutes.
Once rested, remove from the fridge, line with baking paper and fill tart shells with baking beads. Place onto a baking tray lined with baking paper. Place remaining pastry offcuts directly on to the lined tray and bake along with the tart shells until golden brown, about 20 minutes. Remove pastry offcuts from tray and set aside to cool until needed. Remove baking beads and baking paper from the tart shells and return to oven until base is dry, about a further 5-7 minutes. Remove tart shells from oven and cool before unmoulding. Once cool, unmould and set aside until needed.
For the Grilled and Roasted Nectarines, cut cheeks from nectarines, slice into thirds and place in a large bowl, add sugar and toss well to coat.
Pre-heat a grill pan over high heat. When hot, add butter to coat the base of the pan and quickly place nectarines flesh side down on the grill. Cook until dark grill marks appear on the flesh of the nectarines, about 2 minutes.
Once grilled, transfer nectarines to a baking tray lined with baking paper and bake in the pre-heated oven until tender but not falling apart, about 20-25 minutes. Remove nectarines from oven and slice into ½ cm slices. Set aside on a lined baking tray until needed.
For the Apple Wafers, place slices on a baking tray lined with baking paper and bake in the pre-heated oven until crisp on the edges and dehydrated, about 12 – 15 minutes. Once dry, remove from the oven and set aside on the baking tray until needed.
For the Pickled Apple, combine all ingredients in a small bowl and place in the fridge until needed. Drain on paper towel just before serving.
For the Lime Caramel, heat sugar in a small saucepan over medium heat until amber in colour. Add lime juice and whisk to combine. Reduce heat to low and gradually whisk in butter and cream. Stir in lime zest and salt to taste. Transfer caramel to a jug and keep warm until needed.
To serve, crumble cooled pastry offcuts and place one or two spoonsful on to the base of each plate, to one side. Place a little Pickled Apple, a few pieces of Grilled and Roasted Nectarine and a few Apple Wafers on the crumbs and around the plate. Place a tart case on the other side of each plate. Fill each tart case with a few Grilled and Roasted Nectarine pieces and top with a little Pickled Apple and a few Apple Wafers. Place scoop of Lime Ice Cream on to the crumbs. Sprinkle a little lime zest over the dish and serve with Lime Caramel on the side.