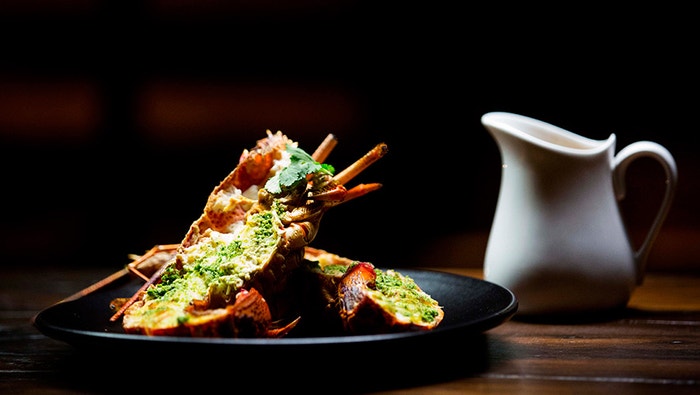 Steps
To make the Asian Chicken Broth, heat oil in a large pot, add chicken pieces and fry until caramelised. Meanwhile, place ginger, garlic, galangal, chillies and coriander roots in a mortar and pestle and grind to a paste. Add paste to chicken pieces and fry for 2 minutes. Add 2 litres of water,
Bring to a boil and reduce heat to simmer by half. Season with vinegar, salt and pepper to taste.
Strain broth through a sieve lined with muslin cloth and transfer to a pouring jug. Set aside.
To make the Coriander Sambal, place all ingredients into a food processor and blitz to a coarse paste, about 1-2 minutes. Set aside.
To cook the Grilled Lobster, heat a griddle pan over high heat. Cut lobster in half (lengthways) and brush flesh with butter and garlic. Place lobster onto griddle, flesh side down, and cover with foil. Cook until internal temperature reaches 44C, about 10-12 minutes. Remove from heat and set aside to rest.
To serve, brush lobster flesh with some sambal and place on plate. Pour broth into bowl and finish with coriander leaves.