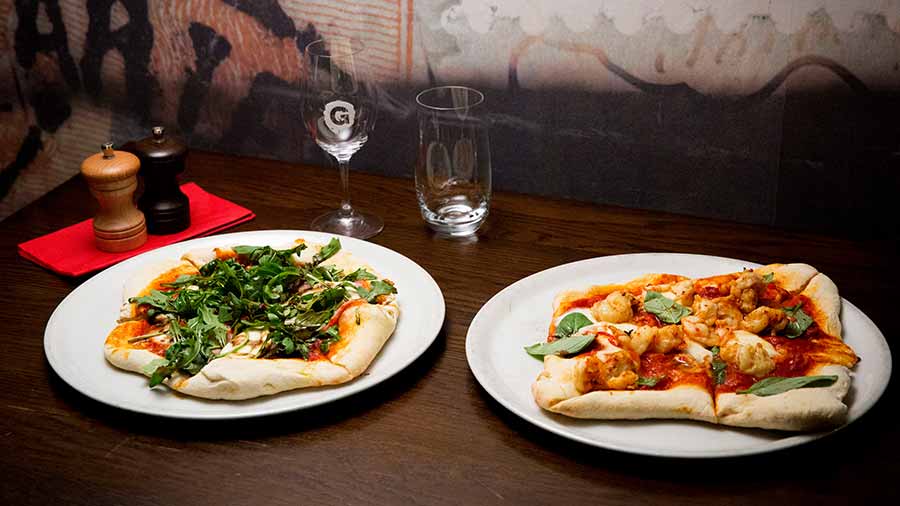 Ingredients
Prawn, Garlic and Chilli Pizzas
Pancetta, Mozzarella, Rocket and Balsamic Pizzas
Steps
For the Pizza Dough, combine 1 cup of warm water and salt in a medium bowl and stir until salt has dissolved. Add 40g of the flour and mix until smooth. Gradually add remaining flour along with yeast and whisk until the mixture reaches the consistency of a pancake batter. Turn dough onto a lightly floured work surface and knead until smooth and elastic, about 8-10 minutes. The dough will spring back when pressed with your thumb when it's ready. Transfer dough into a lightly floured bowl, cover with a damp tea towel and set aside at room temperature for 2 hours.
Remove the damp tea towel and knock back the dough. Divide the dough into 4 portions. Roll each portion up into a ball then roll out each ball into a 25cm disc. Transfer pizza bases onto lightly oiled baking trays. Set aside until needed.
Meanwhile, for the Pizza Sauce, heat 20ml olive oil in a small saucepan over low heat then add onion and garlic and cook until translucent. Add tomato paste and cook, stirring until reduced, about 1 minute. Add tinned tomatoes and continue to simmer until reduced, about 15-20 minutes.
Remove from the heat and using a stick blender, process to a purée. Stir in the passata, basil and sage leaves and season with salt and sugar, to taste. Set aside to cool.
Preheat oven to 230C or prepare a wood fired oven.
For the Prawn, Garlic and Chilli Pizzas, take two of the prepared pizza bases and spread 2 tablespoons of the Pizza Sauce over each of the bases. Sprinkle cheese over the bases.
Sprinkle bases with finely chopped chilli and cook in the oven until pizza is well risen, crisp and lightly golden, about 8-10 minutes. Remove from the oven and set aside.
Meanwhile, place deseeded chilli and garlic into a food processor and chop finely. Transfer to a medium bowl and add prawns, oil, salt and pepper. Mix well.
Heat a grill pan over high heat. Add prawns and cook for 3 minutes until golden and cooked through. Place hot prawns and some basil leaves onto the cooked pizza bases. Dress with some olive oil, salt and pepper and serve.
For the Pancetta, Mozzarella, Rocket and Balsamic Pizzas, combine balsamic vinegar, star anise, white wine and brown sugar in a small saucepan over low heat and simmer until glaze is thickened and syrupy, about 4-5 minutes. Remove from heat and set aside.
Spread 2 tablespoons of the Pizza Sauce onto each of the remaining two pizza bases. Top with pancetta and mozzarella and bake until crisp and golden, about 10 minutes. Remove from the oven and dress with rocket leaves, reserved balsamic glaze and olive oil.