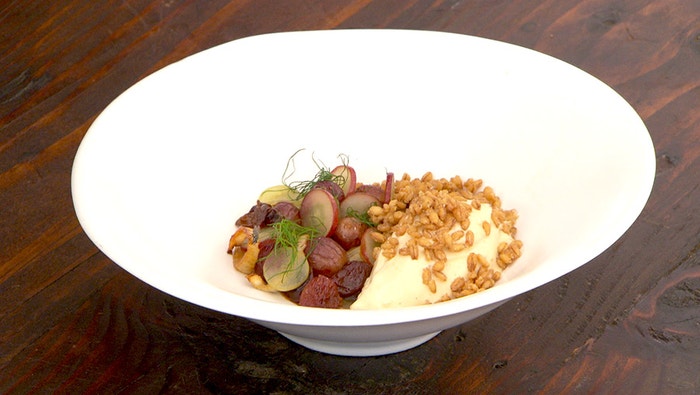 Steps
Turn on ice cream churn to pre-chill. Preheat oven to 170°C.
For the Rice and Fennel Ice Cream, place milk, cream and fennel seeds into a small saucepan, place over a medium heat and bring to a simmer. Once at a simmer, remove from heat.
Meanwhile, place egg yolks and sugar into the bowl of an electric mixer fitted with the whisk attachment and whisk until thick and pale. While continuously whisking, slowly add the hot milk and cream mixture and whisk until combined. Return mixture to the saucepan and place over a low heat. Stir continuously with a silicone spatula, until mixture thickens and reaches 82°C. Once at temperature, remove the anglaise from the heat and strain through a fine sieve into a medium bowl. Add the rice and mix gently to combine. Place the ice cream mixture over a large bowl of iced water to cool.
Once cool, transfer the mixture to an ice cream churner and churn according to manufacturer's instructions. Once churned, place ice cream in freezer to set until needed.
For the Crispy Barley, place pearl barley, along with 3 cups of water into a pressure cooker, seal and cook on high pressure for 12 minutes. Strain the cooked barley through a fine sieve, spread out thinly on a large flat tray and set aside for 10 minutes to allow any remaining moisture to evaporate.
Place oil into a medium saucepan to a depth of 5cm and heat to 180°C. Once dry, add the barley, in small batches, and fry until golden and crunchy, about 3 minutes. Drain on paper towel, sprinkle with salt to taste and set aside until needed.
For the Caramelised Grapes, place grapes on a baking tray and roast in the pre-heated oven until caramelised and breaking down, about 35 – 40 minutes. Once cooked, remove from oven and set aside on the tray until needed.
For the Pickled Grapes, mix all ingredients in a medium bowl to combine and coat the grapes evenly. Set aside in the fridge until lightly pickled, about 15 – 20 minutes. Remove grapes from liquid just before serving, reserving the pickling liquid.
For the Roasted Grapes, place all ingredients in a medium bowl and mix together to combine. Spread ingredients out over a large, flat baking tray lined with baking paper, scraping the bowl to gather all remaining juice and zest. Roast in the pre-heated oven until grapes and fennel are cooked but still holding their shape, about 25 – 30 minutes.
To serve, place 1 tablespoon of Caramelised Grapes at the bottom of each serving bowl. Top with Roasted Grapes and fennel. Scatter 5-6 slices of Pickled Grapes and 2 pickled fennel fronds over each plate. Drizzle each plate with 1 teaspoon of pickling liquid. Top with a quenelle of Rice and Fennel Ice Cream then scatter over the Crispy Pearl Barley.