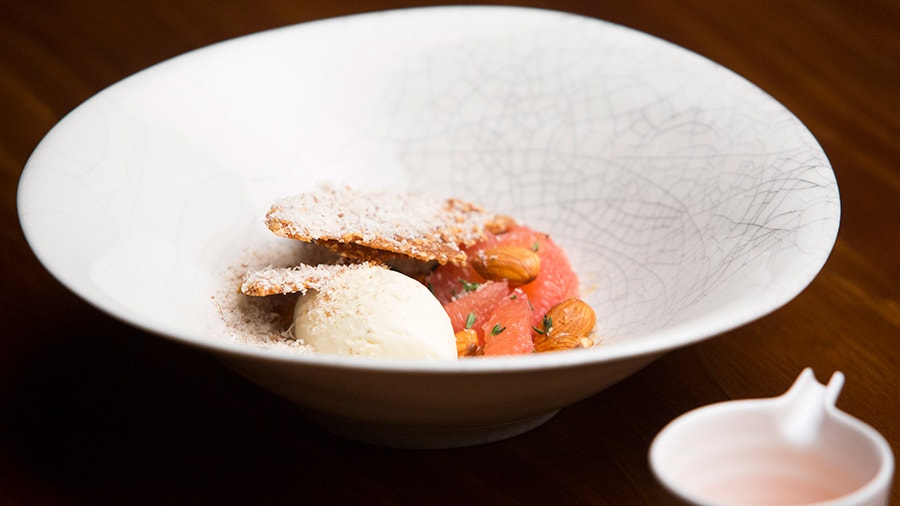 Ingredients
Grapefruit and Thyme Syrup
Steps
Preheat oven to 160oC and turn on ice cream machine to pre-chill for 20 minutes.
For the Blue Cheese Ice Cream, place milk, cream and thyme into a small saucepan. Bring to a simmer then remove from heat. Stir in Gorgonzola and set aside.
Meanwhile, combine egg yolks and sugar in the bowl of a stand mixer fitted with the whisk attachment and whisk until thick and pale. With motor running, add hot milk mixture to egg mixture and continue to whisk until well combined. Return the mixture to the saucepan and place over a low heat. Stir continuously with a spatula until mixture thickens and reaches 80C. Remove from heat, transfer to a medium bowl and add the thyme to infuse. Set the bowl over an ice bath to cool.
Once cool, strain the mixture into ice cream machine and churn according to manufacturer's instructions then set aside in freezer to set until needed.
For the Pickled Almonds, place the grapefruit juice into a small saucepan over low heat and bring to simmer a simmer. Remove from heat. Place almonds in small bowl then pour the hot grapefruit juice over the almonds and set aside to infuse for 40 minutes. Once infused, strain the almonds and set aside in a small bowl until needed.
For the Grapefruit and Thyme Syrup, place grapefruit juice and sugar in small saucepan and bring to boil over medium heat. Add thyme sprigs then reduce to a simmer. Simmer until reduced to thick syrup consistency, about 15 minutes. Strain into serving jug and set aside until needed.
For the Almond Praline Tuille, place sugar in small frying pan. Make a dry caramel by swirling the pan gently as sugar begins to melt and caramelise. Continue until caramel is dark amber and approximately 155C.
Meanwhile, spread nuts on lined baking tray lined with baking paper. Once sugar has melted and caramelised, pour over the nuts. Transfer tray to the freezer for 15 minutes to harden.
Once hard, break the nut toffee into shards, place in the bowl of a food processor and process to a very fine crumb.
Line a baking tray with baking paper.
Using a 12cm round pastry cutter as a template, place the cutter on to the lined baking tray and dust praline mixture into the cutter to form a disc shape. Repeat to make another 3 rounds.
Remove cutter and place the tray in oven until praline has melted into disc shape, about 9 – 10 minutes. Remove from oven and set to cool and harden until needed.
For the Almond Snow, use a fine microplane to grate almonds into small bowl. Set aside until needed.
For the Grapefruit Segments, remove skin and pith from grapefruit. Cut 12 segments from each grapefruit and set aside in a small bowl until needed.
To serve, place a quenelle of blue cheese ice-cream off centre in each serving bowl.
Arrange grapefruit segments and pickled almonds next to the ice cream. Garnish with thyme leaves.
Break the almond praline tuille discs into quarters and scatter over ice-cream quenelle.
Sprinkle with almond snow and serve grapefruit and thyme syrup on the side.