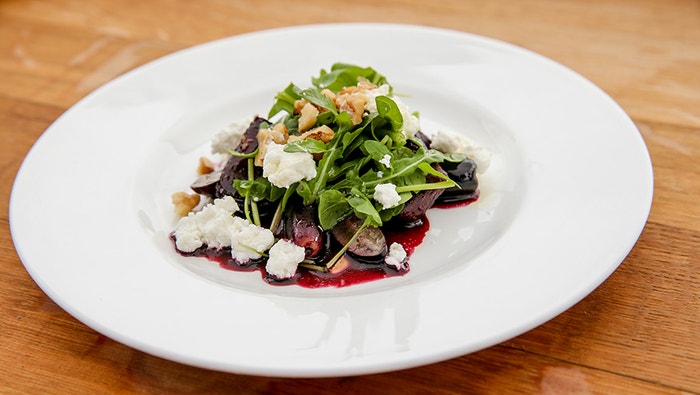 Steps
Preheat oven to 190C.
Peel and wash beetroot, slice into wedges and place in a bowl. Add balsamic vinegar, garlic, rosemary, thyme, and 2 tablespoons olive oil and salt and toss to coat well. Transfer to a paper lined baking tray and place in oven to roast until tender, about 50 – 60 minutes. Remove from oven and set aside.
Place a large frypan over medium heat. Add two thirds of the grapes and cook until skin is blistered, about 2-3 minutes. Remove from heat, transfer to a plate and set aside. Slice the remaining grapes in half and set aside.
Place shiraz and sugar in a saucepan and place over high heat. Bring to a boil, reduce heat and allow to simmer until reduced by 2/3. Remove from heat, add red wine vinegar and remaining 1½ tablespoons olive oil and whisk until combined. Season, to taste, with salt and set aside.
To serve, place 3 pieces of beetroot in the centre of each serving plate followed by 3 whole grapes and 4 grape halves. Dress with 1 tablespoon vinaigrette then finish with watercress and rocket leaves, goat's cheese, walnuts and a drizzle of extra virgin olive oil.