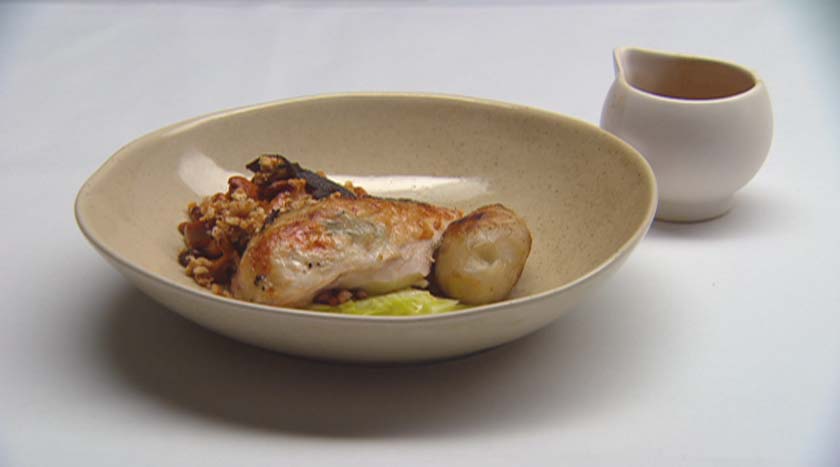 Steps
Preheat oven to 180C.
Lightly whisk egg whites until frothy.
Combine almond meal, flour, icing sugar and a pinch of salt in a bowl. Make a well in the centre and pour in egg whites. Fold mixture until well combined, creating a smooth batter. Gradually stir in butter until combined. Set aside for 10 minutes to rest.
Meanwhile, place raisins, tea and sweet wine in a small saucepan set over medium heat. Bring to the boil and simmer for 5-10 minutes or until raisins are puffy. Remove from heat and allow to infuse for 15 minutes.
Grease a 12-hole friand mould with spray oil.
Spoon mixture into the moulds until three quarters full. Spoon 1-2 teaspoons of the raisins into the centre of each friand. Bake for 15 minutes or until cooked through. Remove from oven and allow to cool slightly before removing from the mould.
a 1. Preheat oven to 180C.
Remove thighs, legs and wings from chickens. Remove backbones, leaving crowns intact. Reserve wings and backbone for stock, and the thighs and legs for another use. Remove wishbone from each crown. Carefully separate the skin from the breast, leaving the base of the skin attached.
Stuff 100g ghee and 1 tablespoon truffle under the skin of each crown. Rub skin with lemon halves and salt. Place crowns into a large roasting pan, each on top of four lemon halves and ½ thyme bunch. Roast in oven for 45 minutes or until cooked through. Remove from oven, and set aside to rest for 15 minutes. Remove breast fillets from the bone.
Meanwhile, for the jus, heat oil in a large frying pan over medium-high heat. Cook chicken wings and backbone until golden. Add eschalots and garlic, and cook until softened, stirring often. Add wine to pan, and simmer for 2 minutes to allow alcohol to evaporate. Add chicken stock, carrot, celery, ½ thyme bunch and bay leaves. Bring to the boil, then reduce heat to a simmer. Cook for 30 minutes until reduced by two thirds. Strain mixture through a fine sieve into a clean pan. Whisk in 10g butter, and season to taste with lemon juice and salt.
Meanwhile, drizzle a baking tray with olive oil, then place cabbage on top, cut-side down. Roast for 30 minutes or until cooked.
Heat a non-stick frying pan over medium-high heat. Cook lardons until golden. Remove and drain well on paper towel, reserving oil.
Place artichokes into a steamer tray set inside a saucepan of simmering water, and cover with a lid. Steam for 20 minutes or until tender. Set aside to cool. Once cool enough to handle, peel and discard skins.
Melt 50g butter in a frying pan over medium heat. Gently cook artichokes until lightly golden. Season. Set aside and keep warm.
For the celeriac puree, melt 50g butter in a saucepan set over low heat. Add celeriac, and gently cook for 5 minutes. Add milk and simmer for 15 minutes or until celeriac is tender. Drain mixture through a sieve, reserving milk. Puree celeriac and 2 tablespoons reserved milk in a blender until smooth. Season to taste with lemon juice and salt.
Place hazelnuts into a mortar and pestle and pound to coarse crumbs. Heat a small frying pan over medium heat. Add hazelnut crumbs, honey and half of the thyme leaves, and stir to combine. Season to taste and set aside.
Melt remaining 50g butter in a frying pan over medium-high heat. Cook mushrooms for about 5 minutes until tender. Season with salt and add remaining thyme leaves, tossing to combine.
To serve, slice cabbage into 4 wedges, and place onto plates. Sprinkle speck over cabbage, and drizzle with reserved oil. Place a spoonful of celeriac puree onto plates, and place a chicken breast on top. Spoon mushrooms over chicken and place artichokes to the side. Drizzle with jus, and garnish with hazelnut mixture and truffle, if using.