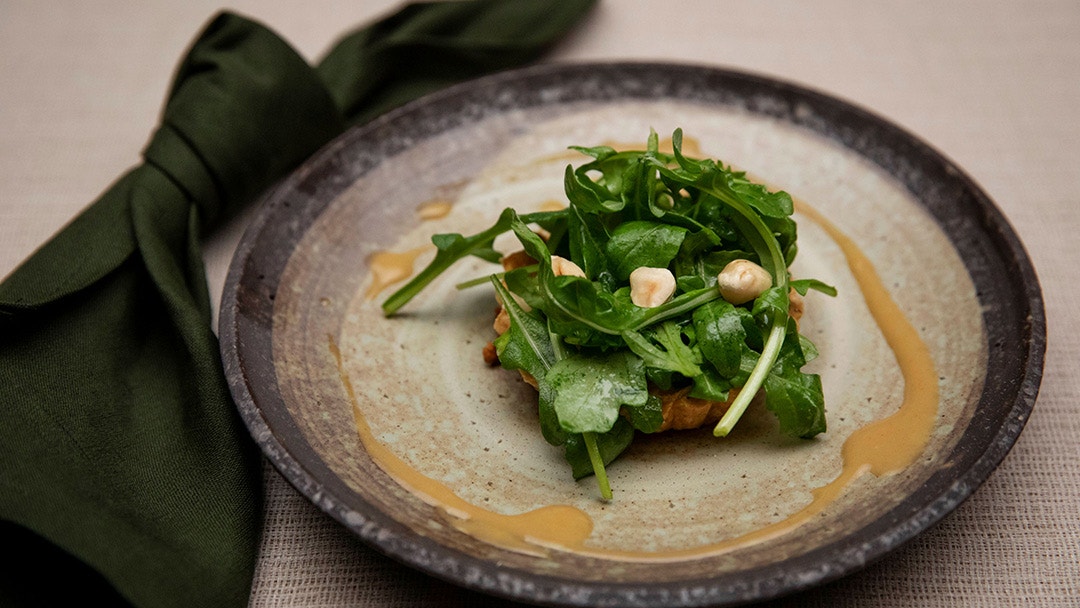 Steps
Preheat oven to 170C.
For the Tart Shells, place the flour, butter and thyme leaves into the bowl of a food processor and process until mixture resembles fine breadcrumbs.
Add egg yolks and 3 tablespoons iced water to the food processor and pulse until a dough just comes together. Add the cheese and pulse until combined.
Form the dough into a disc and wrap in cling wrap. Chill in the freezer for 10 minutes until firm.
Dust the bench with flour then unwrap the dough and roll out to a thickness of 2-3mm. Line eight 10cm fluted tart tins and trim away the excess pastry with a small sharp knife. Place the tins onto a tray and place into the fridge for 20 minutes.
Remove from the fridge and line the tart shells with baking paper. Fill the cavity with rice and blind bake until tart shells are lightly golden brown, about 15 minutes. Remove from the oven. Carefully remove the paper and rice and set the tart shells aside.
Reduce oven to 160C.
For the Tart Filling, place the olive oil and shallots into a medium non-stick frypan and place over low heat. Sauté until very soft and caramelised, about 20 minutes. Remove from the heat and set aside.
Scatter cheese cubes over the bases of the tart shells. Top with the caramelised shallots.
Place the eggs, egg yolks, cream, chives, salt and pepper a medium bowl and whisk until fully combined.
Spoon the mixture into the tart cases. Bake the tarts until the filling is set and lightly golden, about 10-15 minutes. Remove from the oven and set aside at room temperature until required for serving.
For the Rocket Salad, place the rocket, hazelnuts, 1 tsp olive oil, salt and pepper into a bowl and toss together.
For the dressing, place the remaining olive oil, hazelnut oil, mustard, sherry vinegar and raspberry vinegar into a small bowl and mix with a fork until thick and emulsified. Add caster sugar, to taste.
To serve, place a Cheese Tartlets onto each plate. Top with the Rocket Salad and drizzle with the dressing.