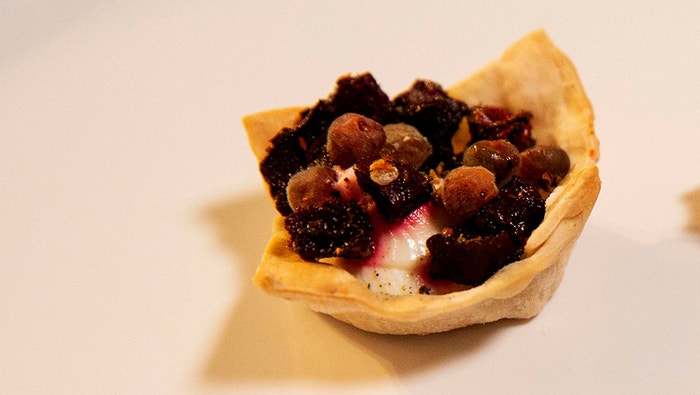 Steps
Preheat oven to 180C.
For the Oven Baked Cracker, place ingredients and 55ml water in a bowl and bring together. Turn out onto a clean, lightly floured bench and knead until dough is soft and smooth, about 5 minutes. Wrap dough in plastic wrap then rest in the refrigerator for 30 minutes.
Remove dough from the refrigerator then pass through a pasta machine, starting with the thickest setting until the dough is 1mm thick. Lay dough on a clean, floured bench and cut out 30 5cm x 5cm squares. Prick dough with a fork then place each square into the cups of patty cake tins and gently press each square to form a cup shape.
Place in the oven to bake until crisp and golden, about 5-6 minutes. Remove from oven and set aside until serving.
For the Roasted Bush Spice Beetroot, peel and clean beetroot, cut into 1cm cubes and place in a medium bowl.
Place all spices into spice grinder and grind into a fine powder. Add spice mix and oliveoil to the beetroot and toss to coat. Transfer to an oven tray and place in the oven to roast until tender, about 30-35 minutes. Remove from oven and set aside, to cool until serving.
For the Goat's Cheese Mousse, place ingredients in a bowl and whisk until light and fluffy. Transfer to a piping bag then set aside, in fridge, until serving.
To serve, pipe Goats Cheese Mousse into cooked cracker then top with Roasted Bush Spiced Beetroot. Sprinkle with salt and garnish with and muntries and lemon myrtle powder.