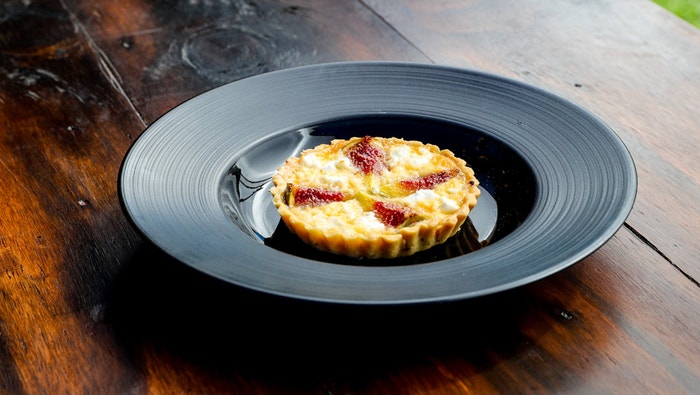 Steps
Preheat oven to 180C.
Place flour, butter, saltbush and salt in the bowl of a food processor and pulse until the mixture resembles coarse breadcrumbs. Add egg yolks and 1 tablespoon of water and pulse until mixture comes together to form a soft pastry dough. Turn dough onto a bench and lightly bring together to form a round. Wrap in cling film and rest in fridge for 30 minutes.
Roll out the rested pastry dough on a lightly floured bench until 3mm thick. Cut four 12cm rounds from the pastry and line four 10cm, loose based, tart tins with pastry rounds. Prick the base of each with a fork and then line with baking paper and fill with pastry weights. Place in the oven to bake for 10 minutes. Remove the baking paper and pastry weights and continue to bake until golden, about 5 minutes more. Remove from oven and set aside to cool.
For the filling, place cream, eggs and goats curd into a bowl and whisk until combined. Season lightly with salt and set aside.
Place four fig quarters into the base of each cooled tart tin. Slowly pour in the cream mixture around the figs, ensuring that the figs are not completely covered by the cream mixture. Crumble the goats feta over the top of the 4 tarts.
Place the tarts in oven and bake until golden brown and the filling has set, about 30 minutes. Remove from oven, drizzle with honey and serve.