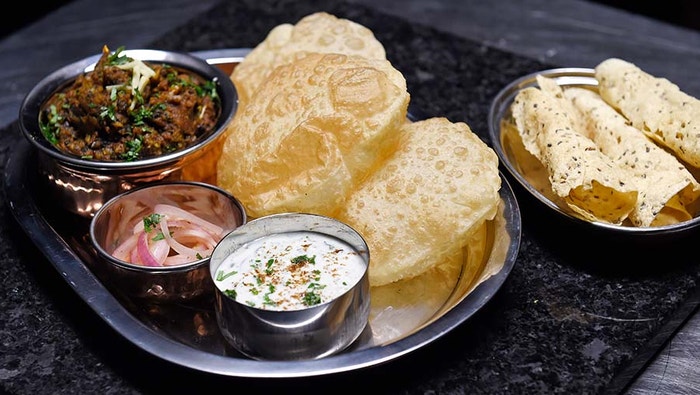 Steps
Preheat over to 160C.
To make the Fried Potatoes, fill a large saucepan with vegetable oil and place on high heat. When oil is hot, add potatoes and fry until golden, about 5 minutes. Remove from heat and set aside on paper towel.
To make the Goat Curry, coat diced goat meat in turmeric and chilli powder and set aside. Meanwhile, heat mustard oil in a large heavy based casserole dish over medium heat. Add cardamom, peppercorns, cloves, cinnamon, bay leaves, cumin, chilli and mace and toast off, stirring for 30 seconds.
Add onion, garlic, ginger and chilli and cook, stirring continuously until onions become translucent. Add marinated goat, yogurt, fenugreek leaves, coriander and cumin and stir to combine. Cover with lid and cook on low heat until meat is tender, about 2 ½ hours.
Stir in fried potatoes and ghee and cook uncovered until curry has dried out slightly, about 3 minutes.
To make the Pickled Onions, combine all ingredients in a bowl, cover with cling film and set aside.
To make the Cucumber Raita, combine all ingredients in a bowl. Season to taste and set aside in fridge.
To make the Luchi Fried Bread, sift flour and salt into a large bowl. Add oil and mix together, gradually adding water to form a smooth dough. Divide into 8 balls and coat with some oil. Roll out into 5mm thick discs and set aside.
Fill a large fry pan with vegetable oil to 2cm high and place over high heat. Carefully, place bread discs into oil and move around continuously with a large slotted spoon. When luchi have puffed up and turned golden, remove from heat and set aside on paper towel.
To serve, place goat curry on plate and garnish with chopped coriander and ginger. Spoon some raita and pickled onions onto plate and serve with luchi fried bread and pappadums.