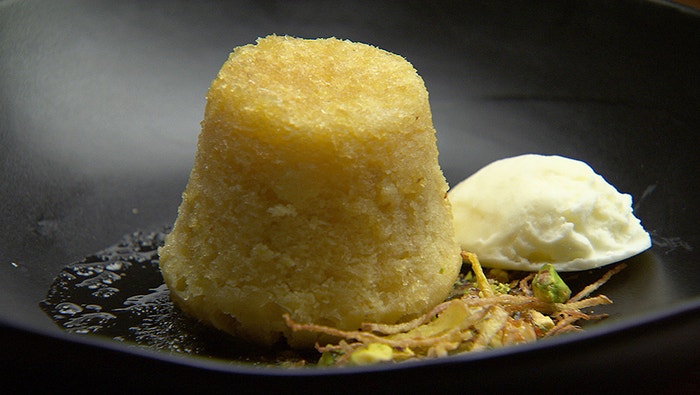 Steps
Preheat oven to 180°C. Turn on ice cream machine to chill. Bring a small saucepan of water to the boil.
For the Greek Yoghurt Sorbet, make a sugar syrup by heating the sugar with 125ml water in a small saucepan over medium heat until sugar has dissolved. Remove from the heat and set aside to cool. When cool, add the yoghurt and whisk well to combine. Transfer the mixture to the ice cream machine and churn until set. Once set, transfer to the freezer until needed.
For the Crispy Ginger, half fill a small saucepan with oil and heat to 180°C. Add the shredded ginger and cook until crispy and brown, about 1-2 minutes. Remove ginger from the oil and set aside on paper towel to drain.
For the Pistachio Praline, place pistachios into a small frypan over medium heat and cook, stirring, until toasted and golden, about 4-5 minutes. Spread the toasted nuts out onto a baking tray lined with baking paper and set aside, reserving the frypan. Add sugar to the reserved frypan and place over a medium heat. Allow the sugar to melt to a deep golden caramel, then remove from the heat and pour over the pistachios. Set aside to cool completely.
Once cool, break into shards and place into a food processor. Process to a fine crumb and set aside.
For the Steamed Puddings, use butter to lightly grease 4 wide dariole moulds then place moulds into a small, deep roasting dish. Combine ingredients together in a medium bowl and whisk together until smooth. Divide pudding batter between the moulds, then carefully fill the roasting dish with boiling water to half way up the sides of the moulds. Cover with foil and bake until a skewer comes out clean when inserted, about 20-25 minutes. Remove the tray from the oven, uncover and set aside.
For the Ginger Syrup, combine all ingredients in a small saucepan over low heat and cook until thickened and syrupy, about 7-8 minutes.
To serve, unmould a Steamed Puddings and place onto the serving plate. Pour some of the Ginger Syrup over the pudding and serve with a scoop of the Yoghurt Sorbet, some Pistachio Praline and Crispy Ginger.