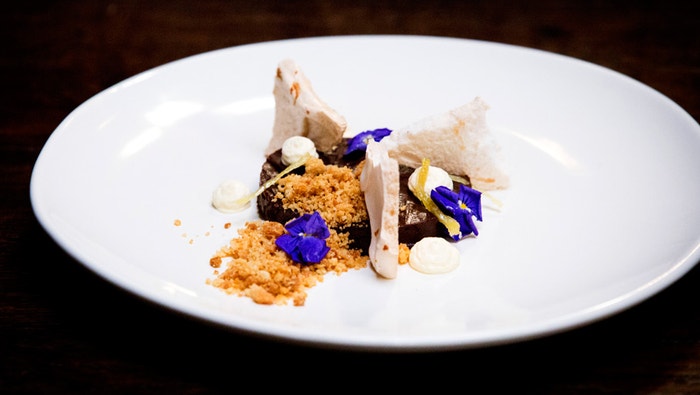 Steps
Preheat oven to 120C.
To make the Ginger Chocolate Cremeux, place cream, fresh and ground ginger into a small saucepan and bring to just below boiling point over low heat. Meanwhile, whisk egg yolks and sugar in a bowl until pale. Whisk a little of the warm cream into the eggs and then transfer back into the saucepan of the cream and whisk, on low heat until mixture thickens and coats back of spoon.
Place chocolate in a bowl, then strain warm cream mixture through a fine sieve over the top and stir until fully melted and combined. Line a 15 x 24 cm baking tray with cling film. Pour in chocolate mixture and place in fridge until set.
To make the Meringue Shards, place egg whites, vinegar and sugar into a stand mixer fitted with a whisk attachment and whisk on high speed until thick and glossy. Add cornflour and whisk lightly until fully incorporated.
Line a large baking tray with baking paper and spread meringue mixture to 5mm thickness. Sprinkle orange zest over and bake in the oven until golden, about 10-15 minutes. Remove from oven and set aside to cool.
To make the Candied Ginger, heat 125ml water and sugar in a small saucepan until dissolved. Add ginger strips and cook on low heat for 20 minutes. Strain to discard liquid and set aside.
Increase oven to 180C.
To make the Ginger Crumb, line a baking tray with baking paper. Place all ingredients into a food processor and process to a coarse crumb. Spread over a baking tray and place into the oven until golden, about 10-15 minutes.
To make the Mango Cream, place mango into a food processor and blitz to a smooth puree. Transfer to an electric mixer with crème fraiche and whip until light and fluffy. Transfer to a piping bag and set aside in the fridge.
To serve, cut 6 discs using a 7cm cutter and place a Chocolate Cremeux disc in the centre of the plate. Sprinkle some Ginger Crumb over and to one side of the disk. Gently break meringue into shards and push some pieces into the Chocolate Cremeux disc. Pipe some Mango Cream around plate. Place some Candied Ginger pieces on top and around the Chocolate Cremeux and finish with some purple violas.