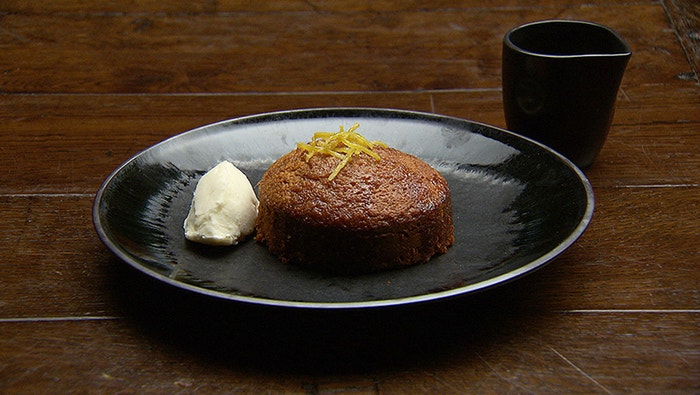 Steps
Preheat oven to 180°C. Turn on ice cream machine to chill. Grease and flour 4 x 8cm ramekins and set on a tray.
For the Yoghurt Ice Cream, place ginger juice and caster sugar in a small saucepan over low heat and stir until the sugar has dissolved. Remove from the heat and set over an ice bath to cool.
Place the yoghurt into a medium bowl and whisk until smooth. Gently fold in the cooled ginger syrup until combined. Transfer the mixture into the ice cream machine and churn until set. Once set, transfer to the freezer until needed.
For the Ginger Caramel Cake, place 250g of the sugar in a medium frypan with 1 tablespoon of water and place over a medium heat. Cook until the sugar melts and turns amber in colour, then remove from heat and stir in 50ml water.
Place 120g of the hot caramel into a small bowl then add butter and stir until melted and fully combined. Set the remaining caramel aside in the saucepan to cool until needed for the Ginger Caramel Syrup. Finely grate the ginger into the bowl of caramel butter mixture and stir to combine.
Sift the flour into a large bowl. Make a well in the centre, add egg, milk, remaining sugar and caramel butter mixture and use a wooden spoon to mix well until smooth.
Divide the cake mixture between the greased ramekins. Place the tray of ramekins into the oven and bake until a skewer comes out clean when inserted, about 20-25 minutes. Remove from the oven and set aside
For the Candied Ginger, combine the sugar and juice in a small pan over a medium heat and bring to a simmer. Add the julienned ginger and simmer over a low heat for 10 minutes, then remove from the heat. Strain the ginger syrup through a sieve into a clean bowl and discard the julienned ginger pieces. Measure out 50ml of the ginger syrup and set aside for later use in the Ginger Caramel Syrup.
Once the Ginger Caramel Cakes have been removed from the oven, pour the remaining ginger syrup in the saucepan over the cakes and set aside.
For the Ginger Caramel Syrup, combine 50ml of the reserved caramel and 50ml of the reserved ginger syrup in a small saucepan over low heat and stir until combined. Remove from the heat and add a pinch of salt then transfer to a jug and set aside.
To serve, place a Caramel Ginger Cake in the centre of the serving plate. Arrange some Candied Ginger on top of the cake. Top with a quenelle of the Yoghurt Ice Cream to one side, and serve with the Ginger Caramel Syrup in a jug.