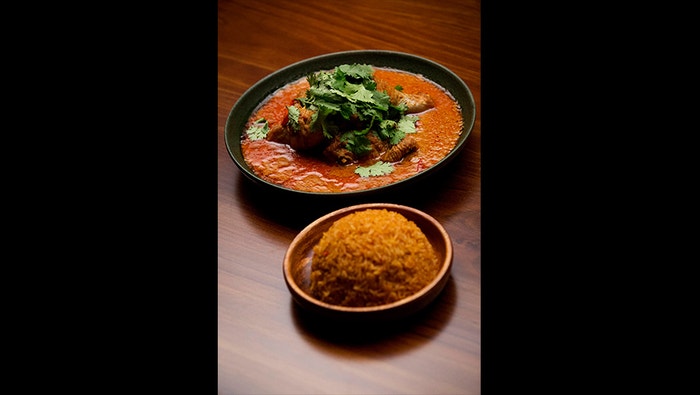 Steps
For the Peanut Stew, place 1 tablespoon peanut oil in a large deep frying pan and set over medium-high heat. Add chicken pieces and fry until golden brown. Remove from pan and set aside.
Add onions to a food processor and process until finely chopped.
Add remaining 2 tablespoons peanut oil to the hot fry pan. Add the onions and cook until translucent. Add the garlic and spices to the pan and fry until aromatic.
Puree the tomatoes in a food processor until smooth. Add to the pan and cook, stirring occasionally, until reduced, about 4 minutes.
Return chicken pieces to the pan along with peanut butter, stock, chillies and 2 cups water. Bring to a boil, then reduce heat and allow to simmer until the chicken meat pulls away from the leg bone and the liquid has slightly reduced, about 45 - 50 minutes. Season to taste.
For the Jollof, finely chop the onion in a food processor.
Place the peanut oil in a deep medium-sized saucepan and set over medium-high heat. Add the onions and fry until translucent. Add garlic and paprika and fry until fragrant, about 1 minute.
Puree the tomatoes in a processor and add to the pan.
Increase heat to high and boil the tomato mixture until it resembles a thick paste, making sure to stir the pan regularly to prevent the mixture from sticking and burning.
Add the stock, cardamom and ¼ cup water and bring to a boil.
Add the rice, nutmeg and seasoning then return mixture to a boil.
Cover, reduce heat to low, and allow to simmer until most of the liquid has evaporated. Remove from heat and set aside, covered for 8 -10 minutes to finish cooking.
To serve, fluff the rice with a fork. Spoon rice into a small, domed bowl, pressing the rice in gently but firmly. Turn out onto a side serving plate. Repeat with remaining rice.
Divide Stew between 4 serving bowls and garnish with coriander.