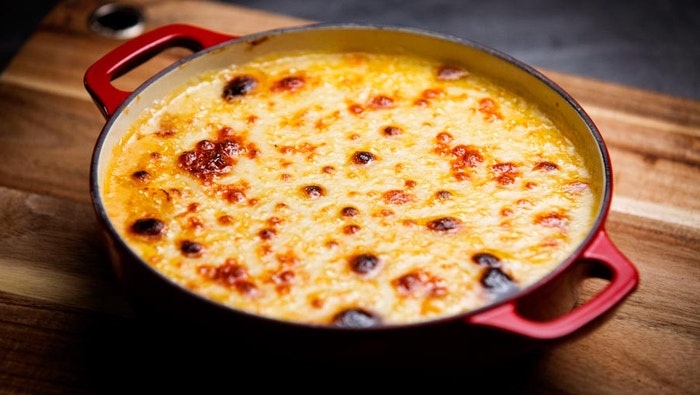 Steps
A day in advance, make the Pinenut Milk. Place pinenuts in a medium bowl. Cover with 500ml of water and set aside in the fridge overnight. Remove bowl from fridge and place nuts and liquid in a blender in batches and blend to a smooth paste. Place puree in a strainer over a bowl, allow to drain for 2 hours or until the pinenuts are dry and all liquid has drained. Set aside for the Bechamel.
Preheat oven to 140C.
For the Seaweed Butter, fold sheets in half 4 times and snip to create fine strips. Soak in 60ml hot water until softened. Drain and allow to cool.
Place softened nori along with remaining ingredients into a jug and blend until smooth. Cover and set aside in the fridge.
For the Braised Shoulder of Lamb, heat 1tbsp of the olive oil in a large frypan on high than add one quarter of the lamb to the pan and cook until all sides are browned, about 8-10 minutes. Place browned lamb pieces into a large casserole pot and repeat this process until remaining lamb is cooked. Reserve frypan on heat for the onions. Add cinnamon, star anise, and tomato paste to the lamb. Set aside until required.
Using the reserved frypan, heat remaining 2 tablespoons of olive oil then add onions and cook until softened. Season with salt and add to the casserole pot to cover the lamb. Pour in enough chicken stock to just cover the onions. Cover with a sheet of baking paper to create a cartouche and press down so that the baking paper sticks to the onion layer. Cover whole dish with aluminium foil and seal tightly.
Place casserole dish in oven and cook until meat is tender, about 4 hours. Remove casserole pot from oven and allow to rest for 1 hour.
Increase oven to 180C.
Separate the meat, onion and cooking stock, reserving all components in separate bowls.
Strain the cooking stock, reserving half (750ml) to cook the potatoes in and set aside. Place remaining half amount of the cooking stock into a small saucepan and cook over medium heat until reduced to a thick glaze.
Meanwhile, remove all bones from the reserved bowl of meat. Discard the bones and place meat and reserved onions into the now reduced stock glaze and mix well to combine.
To finish, add 2 tablespoons of the Seaweed Butter into the meat, mix through and season well. Set aside until required.
For the Eggplant, wrap a head of garlic in foil with 1 teaspoon of olive oil and a pinch of salt, place in the oven and cook until soft, about 20-25 mins. Remove from oven and set aside.
Heat barbeque and place whole eggplants onto the grill and cook for 4 minutes whilst turning every minute to cook all sides evenly.
Plunge cooked eggplant into an ice bath. Whilst the eggplant is still warm, remove the skin from the eggplant and the cut off the tops. Place eggplant into a strainer over a bowl to let any excess water drain.
Once garlic is soft, remove garlic from skin and combine with strained eggplant in a bowl, using a back of a spoon to combine, season with salt and set aside.
For the Potato, place kipflers, bay leaf and star anise into a pot and cover with reserved cooking liquid, ensuring potatoes are fully submerged. Simmer on low heat until tender but not falling apart, about 10-15 minutes. Drain and set aside.
For the Bechamel, melt butter into a saucepan over low heat then add spelt flour, cook until all butter has been absorbed and the flour mix starts to cook. Add cloves, bay leaf, and pine nut milk, whisking to combine. Add 50g of the Kefalograviera cheese and stir until completely melted. Set aside.
To assemble, spoon lamb mixture into a deep 28cm x 18cm baking dish. Spoon a layer of eggplant on top of the lamb layer, top with sliced potatoes. Pass Bechamel through a sieve and pour on top of the potato layer to completely cover. Sprinkle remaining Kefalograviera cheese on top and place into the oven to bake until golden brown, about 10-15 minutes.