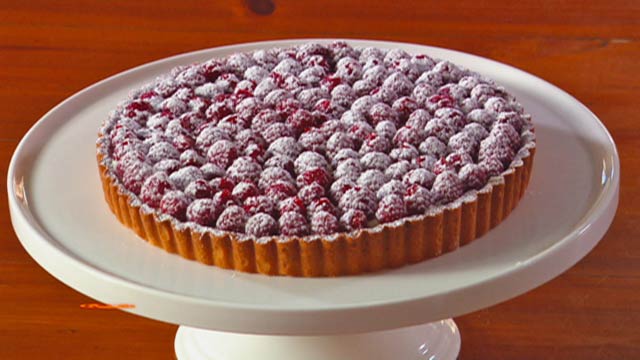 Steps
Sweet shortcrust pastry
Place all ingredients except for egg yolks and milk into a food processor. Process mixture, tilting and gently shaking bowl until mixture resembles almond meal or breadcrumbs. Remove from processor and transfer to a bowl, making a well in the centre. Place 6 3 egg yolks into well, then using your hands, work egg yolks into crumb mixture until just combined. Do not knead the dough, the mixture should be crumbly. Form dough into a ball and place in a clean bowl, then wrap with plastic wrap and refrigerate for 20 minutes to rest.
Preheat oven to 180°C (160°C fan-forced). Lightly grease a 22cm loose-bottomed tart tin and line base with baking paper.
Place pastry on a lightly floured work surface. Using a lightly dusted rolling pin, start to evenly flatten roll dough, keeping it as round and neat as possible around the edges making an indent in dough at quarter turns. With even pressure, turn and lift pastry in a clockwise direction, rolling to a thickness of approximately 3mm. To check if the pastry is the correct size for the tart tin, place the tart tin over the pastry, there should be at least a 5cm border the whole way around. Line the base of the tart pan with baking paper. Carefully line the tart tin with the pastry, and chill in the refrigerator for 15 minutes.
To blind bake the pastry case, line base with a cartouche made from baking paper. Fill tart shell with pie weights or a dried pulse (eg. chickpeas), to the top of the shell to help support the sides and weigh the base down during cooking.
Place tart tin on a tray and bake in oven for 15 minutes. Remove tart tin from oven, check pastry is lightly golden before removing weights and baking paper. Combine remaining egg yolk yolks and milk in a bowl and brush pastry well with the mixture, before returning to oven to cook for a further 10 minutes or until golden. Remove tart from oven, allow to cool completely.
Vanilla crème pâtissière
For the pastry cream, place 400ml milk and vanilla in a saucepan and bring to the boil. Meanwhile whisk egg yolks and sugar in a bowl, then add cornflour and remaining 100ml milk, whisking until combined.
Gradually whisk milk mixture into egg mixture until combined. Return mixture to a clean saucepan set over medium heat. Whisk vigorously and continuously until the pastry cream begins to bubble. Remove from heat and transfer to a bowl. Cover with plastic wrap (the pastry cream should come into contact with the plastic wrap to form a seal) and refrigerate for about 1 hour or until cool. This can be made a day in advance.
Once pastry cream is cold, whisk cream to soft peaks, then fold through pastry cream until combined.
Fill tart shell with pastry cream mixture, arrange with raspberries, and dust with icing sugar to serve.
Notes
Tips: When making pastry: *Freeze butter to keep cold in warmer temperatures. *Do not over-process or dough will form a paste and activate gluten. *If your hands are warm when working with pastry, you can cool your hands down by dipping them into a bowl of iced water. *Do not use rice when blind baking as the heat cannot penetrate the base of the tart causing the sides to burn. Use either pastry weights or chickpeas.
When making crème patissiere/pastry cream: *Add a pinch of sugar when heating milk to prevent it from catching on the base of your saucepan.
* Please note this recipe makes a strong pastry cream to which you add whipped cream, as a general rule work on the ratio of 1 egg yolk to 100ml of milk and 100g cornflour to 1 ltr milk.