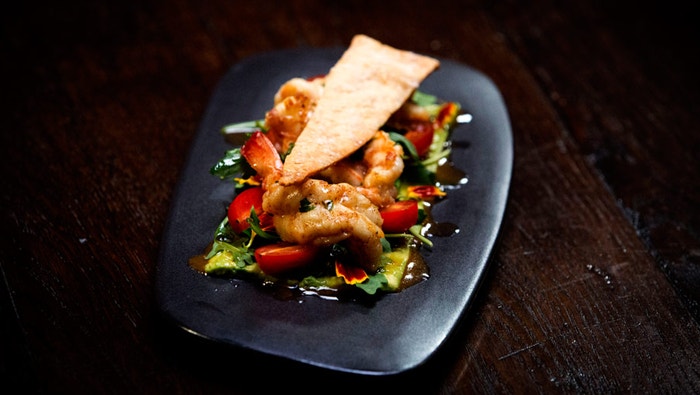 Steps
Preheat oven to 180C.
For the Prawn Oil, place oil into a medium frypan and heat over low heat. Add prawn heads and cook, stirring for 15 minutes until fragrant. Add roughly chopped shallots, garlic, chilli and tarragon. Infuse for another 10 minutes. Strain oil and season to taste. Set aside to cool.
For the Prawn Oil Vinaigrette, whisk prawn oil and lemon juice together in a small bowl. Season to taste and set aside.
For the Pressed Avocado, line a baking tray with baking paper. Place avocado and lemon juice into a bowl and mash until smooth. Season to taste and spread onto lined baking tray to 5mm thick. Place into the freezer until set. Once set, use the tip of a knife to cut pressed avocado into 4 equal sized rectangles. Use a metal spatula to carefully remove rectangles from the tray and place onto the plate. Set aside in the fridge until required.
For the Prawn Oil Salted Crisp, line a baking tray with baking paper. Combine flour and salt in a medium bowl. Mix in 2tbsp of the prawn oil and add 35ml of water to form a dry dough. Knead and roll out to approximately 2mm thick then cut into triangles.
Place biscuit triangles onto lined baking tray. Brush with remaining prawn oil and season with extra salt flakes. Bake until golden and crisp, about 10-12 minutes. Remove from oven and set aside to cool.
For the Prawns in Tarragon Butter, butterfly and flatten the prawn tails then season. Heat butter in a medium sized frypan and add tarragon. Add prawns and cook for 1 minute on each side.
To plate, arrange rocket, tomatoes and flowers on top of the rectangle of Pressed Avocado. Top with Prawns, drizzle with Prawn Oil Vinaigrette and finish with Prawn Oil Salted Crisp.