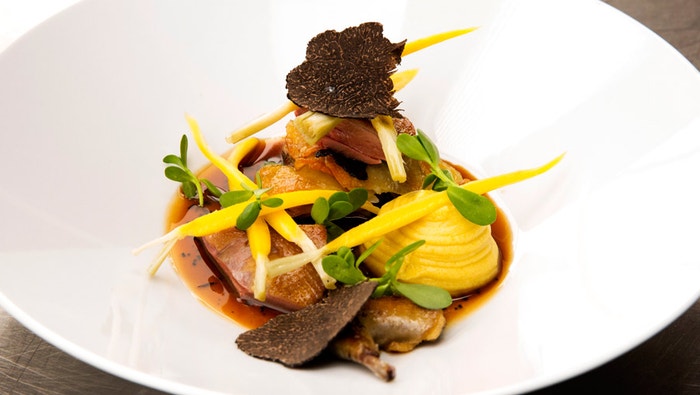 Steps
Preheat oven to 180C.
For the Squab Jus, break squab down into crown and legs and reserve crown and legs, covered on a tray in the fridge. Keep the neck and trimmings. Place neck, trimmings and chicken wings in a heavy based roasting pan, drizzle with olive oil and roast in the oven until golden.
Remove from the oven and place onto the stove over high heat. Add shallots, thyme and remaining aromatics. Deglaze with 3 alcohols and cover with veal stock. Reduce heat and simmer for 30-40 minutes. Pass through a fine sieve and set aside until required.
For the Braised Squab Legs, place chicken stock into a medium saucepan and bring to a simmer over low heat. Add squab legs and braise until just cooked through, about 25-30 minutes. Remove from heat and carefully take squab legs out of the stock. Set aside on a tray covered in the fridge.
For the Pommes Anna, grease a 20cm sauté pan with canola spray and line the base with a circle of baking paper.
Place potato slices in a large mixing bowl with melted butter and gently toss to coat. Add thyme leaves and season with salt and white pepper.
Layer potatoes in the pre-lined sauté pan in a fan shape so that each piece slightly overlaps the next to create an even layer.
Cover the potato layer with a layer of shaved truffle then cover with a second layer of the potato slices. Continue to pave layers of potato until they reach 1cm from the top of the pan.
Cover the final potato layer with a second circle of baking paper and gently press down to adhere paper onto the potato layer. Place pan onto the stove over medium heat. Once the butter begins to bubble around the sides, reduce heat and cook for a further 10 minutes. Transfer to the oven with the baking paper still on top and bake until surface is golden, about 20 minutes. Lift up the top layer of baking paper slightly to monitor colour if required.
Remove from the oven and remove the top layer of baking paper. Invert pan onto a chopping board and carefully release the Pommes Anna from the pan. Peel off remaining circle of baking paper and set aside, keeping warm.
For the Pickled Yellow Carrots, place prepared carrots into a bowl. Place remaining ingredients into a small saucepan over medium heat stirring occasionally, until sugar has completely dissolved. Remove pickling liquid from the heat and pour over the carrots. Set aside to pickle until required.
For the Carrot Hommus, heat butter in a small frypan and add shallots and garlic then sauté until transparent. Add chopped carrot and cook for 3 minutes on medium heat. Add chicken stock and cook for a further 15 minutes. Add chickpeas and cook until 90% of the liquid has been absorbed. Place in blender with tahini and extra virgin olive oil and blend until smooth. Season to taste with sea salt and chardonnay vinegar. Transfer to a piping bag and set aside.
To finish the Roast Squab, heat butter and oil a small, oven safe frypan over medium heat. Remove squab crown from fridge, place into the hot frypan and brown on all sides. Transfer pan to the oven until cooked, about 3 minutes. Remove roasted crown from the oven and rest crowns for 3 minutes, upside down, before carving. Place frypan back onto low heat. Remove reserved braised squab legs from the fridge and place into the hot frypan, skin side down, fry until golden about 1 minute and remove from pan.
Once crown has rested, carve the breasts.
To serve, pipe a mound of the Carrot Hommus onto the plate. Place a Braised Squab leg and a Roasted Squab breast onto the plate. Cut a slice of the Pommes Anna and place onto the plate. Top with some Pickled Carrots. Garnish with some sprigs of purslane and slices of truffle. Finish with some Squab Jus.
Notes
In advance: Soak dried chickpeas overnight for the Carrot Hummus.