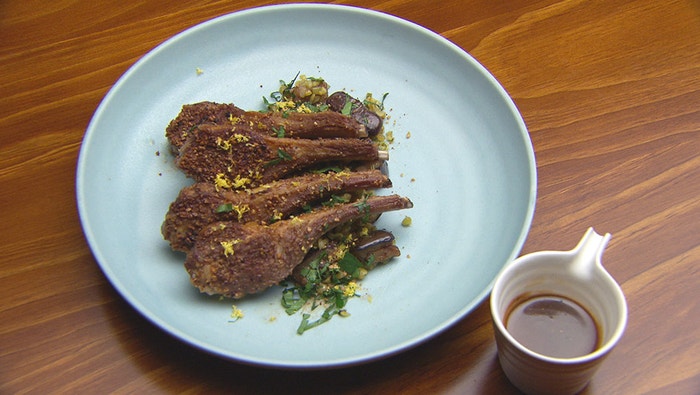 Steps
For the Lamb Cutlets, place a frypan over medium heat, add the freekeh and toast until darkened and aromatic. Remove from pan and allow to cool for 5 minutes.
Using a mortar and pestle, crack the freekeh until coarsely ground. Add sumac, pepper and a pinch of salt. Mix until well combined. Set aside until needed.
Season the lamb cutlets with salt and pepper on both sides. Coat with the toasted freekeh mix.
Place a frypan on medium-high heat and add olive oil. Place cutlets fat side down, propped against the side of the pan if necessary, and allow the fat to render and crisp for 3 minutes.
Then cook both sides of cutlets until medium rare, about 2 minutes each side, or longer until cooked to your liking. Remove from pan and allow to rest, covered, until needed.
For the Eggplant, cut the eggplant into 2cm cubes and toss in a generous pinch of salt. Place the eggplants in a strainer over a glass bowl and allow to drain for 30 minutes.
Place a large frypan on high heat, add 3 tablespoons olive oil to the pan and then add eggplant. Stir-fry until golden, about 4 minutes. Cover pan and allow eggplant to steam for 5 minutes.
Once steamed, remove lid, add sumac, pepper and date syrup to frypan. Toss to coat the eggplant evenly. Remove from heat, add parsley and season, then stir well. Set eggplant aside until needed.
For the Freekeh, bring 2 cups of water to the boil. Once boiling, add freekeh. Cook for 30-40 minutes or according to package directions, until al dente. Drain and set aside until needed.
Place a large frypan over medium heat and add 60g reserved lamb fat. Allow to cook until fat renders. Increase heat to high and add freekeh, parsley stems, salt and pepper to taste. Cook for 3-4 minutes, stirring often. Add lemon juice and parsley leaves. Remove from heat and set aside until needed.
For the Sweet and Sour Sauce, place lamb bones into a medium saucepan and place over high heat. Cook until golden brown and fat has rendered, about 5 – 6 minutes.
Once the lamb bones are brown and dark, add 375ml water, date syrup, lemon juice, salt, pepper and parsley to the pan. Stir well to combine. Allow to reduce until thickened.
To serve, divide Eggplant between plates. Cover with sautéed Freekeh. Arrange Lamb Cutlets against the eggplant and sprinkle with chopped parsley leaf and lemon zest.
Serve with Sweet and Sour Sauce on the side.