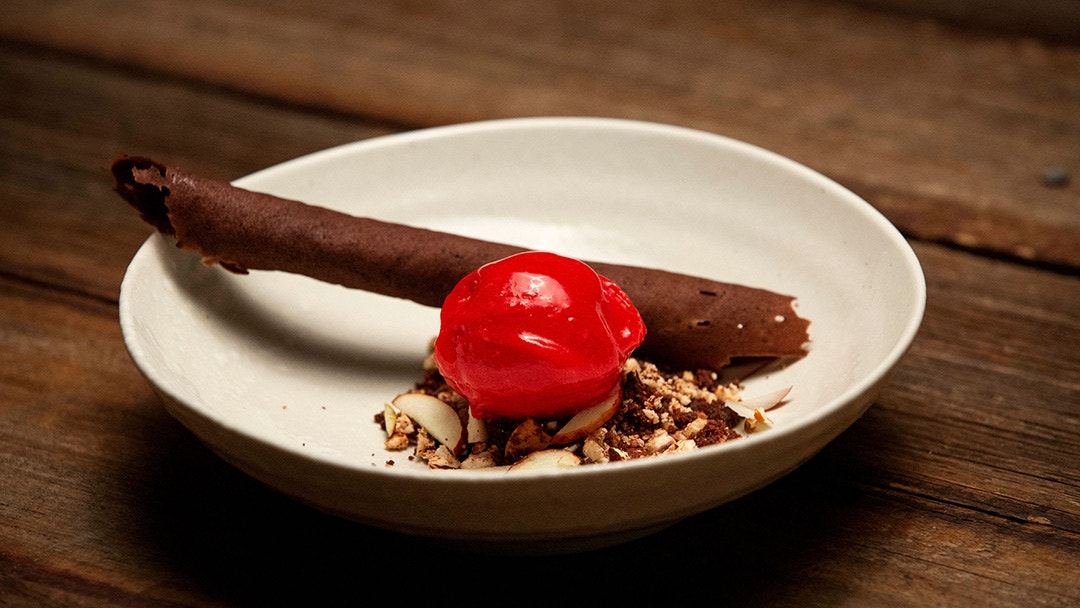 Ingredients
Wattleseed and Chocolate Logs
Steps
Pre-chill ice cream machine and preheat oven to 180C.
For the Raspberry Sorbet, place the sugar, glucose and 90ml water into a small saucepan and stir over low heat until sugar has dissolved. Remove from the heat and place in the fridge to chill.
Pass the raspberry puree through a fine sieve into a bowl. Stir in the chilled sugar syrup and citric acid, to taste, and place into the ice cream machine.
Churn according to manufacturer's instructions then place the sorbet into the freezer until required.
For the Chocolate Soil, place the chocolate onto a lined tray and bake in the oven until golden, about 20 minutes. Remove from the oven and set aside.
Place the remaining ingredients into a bowl and mix by hand to a soft dough.
Roll dough between 2 sheets of baking paper until 3mm thick and chill in the freezer until firm. Place onto a baking tray and peel away top layer of paper.
Bake in the oven for 7 minutes then turn the tray around in the oven and bake for a further 7-8 minutes, until cooked through. Remove from oven and set aside to cool. Break into shards then place into a food processor and pulse to a crumb.
Transfer to a bowl and add the caramelised white chocolate and mix through using fingertips. Set aside.
For the Wattleseed and Chocolate Logs, line a large baking tray with baking paper and set aside.
Place the butter and icing sugar into the bowl of an electric stand mixer fitted with a paddle attachment. Add the egg whites and beat together for 30 seconds. Add the flour, cocoa and wattleseed and mix together until smooth.
Working with 1 teaspoon of batter at a time, spoon the batter onto baking paper and spread to a rectangle measuring 7cm x 3cm. Bake until cooked and lightly golden, about 7-10 minutes. Remove the tray from the oven and while still hot, lift each biscuit from the tray and wrap around a cannoli tube or thin rolling pin to form a log. Set aside until cool and crisp. Repeat with the remaining mixture. Once cool, carefully remove the logs and set aside.
For the Lemon Myrtle Mascarpone, place ingredients in a medium bowl and mix together until smooth. Transfer to a piping bag and set aside in the fridge until required.
To serve, pipe Lemon Myrtle Mascarpone into the centre of each plate. Add a spoonful of Chocolate Soil. Sprinkle with diced jujubes and sandalwood nuts. Finish with a quenelle of Raspberry Sorbet and a Wattleseed and Chocolate Log.