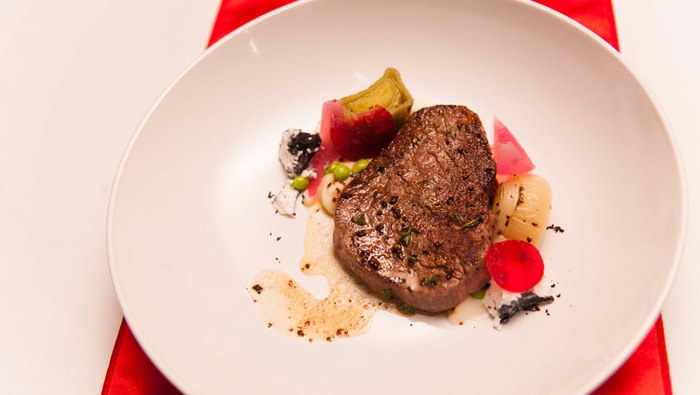 Steps
For the Cauliflower Purée, remove and discard core of cauliflower and thinly slice florets.
Melt butter in a large frypan over low heat and add onion. Cook until translucent without colouring. Add cauliflower and salt and pepper to taste and stir to combine. Add 50 ml water to produce steam. Cover and cook for 15 minutes until tender.
Once cooked, transfer cauliflower mixture and pan juices to a food processor and blend to a thick smooth purée, adding a little more water to loosen if necessary. Season and set aside, keeping warm until needed.
For the Pickled Onion, cut onions in half and each half into 5 wedges. Remove skin then place onion wedges and verjuice into a small saucepan over medium heat. Cook for 10 minutes, until onions are soft and pink. Remove from heat, add thyme leaves and stir to combine, then set aside until needed.
For the Roasted Leeks, rinse trimmed white section of leek and place onto a piece of foil with oil and seasoning. Wrap up like a bon bon, place on a baking tray and cook in oven for 25 minutes until tender. Once cooked, cut the leek into 3cm pieces and using a blowtorch, blacken slightly on one side. Set aside until needed.
For the Brown Butter Glaze, place chicken stock in a medium saucepan over high heat and bring to the boil. Once boiling, reduce heat slightly and simmer for 30-35 minutes until stock is reduced and syrupy.
Meanwhile, melt butter in a separate pan until nutty and brown. Add the brown butter to the reduced stock, along with the apple vinegar. Stir to combine and season to taste. Set aside until needed.
For the Eye Fillet, heat a hot dry frypan over high heat. Rub steaks with oil, salt and pepper and cook in the hot pan for 30 seconds each side.
Remove steaks from pan, brush both sides with glaze and sprinkle with fresh thyme leaves. Set aside to rest on a clean plate for 4 minutes.
To serve, place 2 spoonfuls of Cauliflower Purée on to 4 serving plates and smear slightly. Place one steak in the centre of each plate, over part of the purée. Place one piece of Roasted Leeks at either end of purée. Garnish with 3 – 4 pieces of Pickle Onion and 3 shaved beetroot slices. Garnish each plate with 3 snow peas, 2 small chunks of ashed goats cheese. Grate dried black olive over the top to finish. Serve with remaining Brown Butter Glaze on the side.