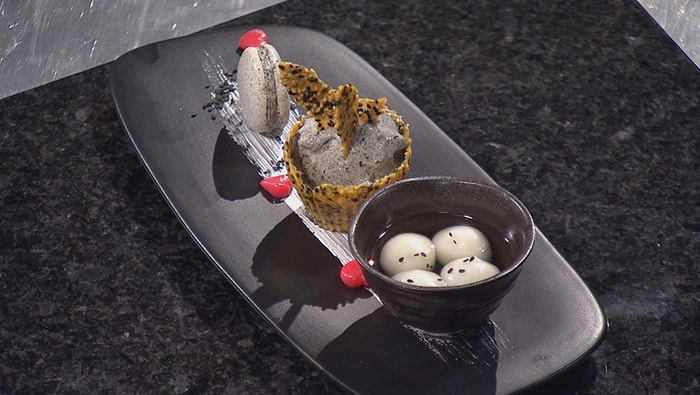 Steps
Preheat oven to 120C. Turn on ice cream machine to chill.
To make the Italian Meringue Buttercream, toast peanuts in a small frypan over medium heat stirring regularly, until just browned, about 4-5 minutes. Remove from heat and set aside to cool. Transfer to a food processor and blitz to a fine crumb, pass through a fine sieve and set aside in a bowl until required.
Heat 90g of the caster sugar with 30ml of water in a small saucepan to 118C.
Meanwhile, place egg whites in a mixer fitted with a whisk attachment and whisk to soft peaks. Add the remaining 20g of the caster sugar to the eggs and continue to whisk to stabilise. With the mixer running on medium speed, gradually pour sugar syrup into egg whites. Turn mixer back up to high speed and whisk until thick and glossy. Allow mixture to cool.
When mixture has cooled, gradually add butter, whisking in between each addition until combined. Add black sesame powder and toasted peanuts then mix to combine. Transfer to a piping bag and set aside in fridge.
To make the Macaron Shells, place caster sugar and 40ml of water in a small saucepan and heat to 118C. Place 80g of the egg whites in a stand up mixer and whisk to soft peaks. Turn mixer down to medium speed and gradually pour in sugar syrup. Turn mixer onto high speed and whisk until thick and glossy.
Meanwhile, place icing sugar, almond meal, black sesame powder and remaining egg whites in a bowl and mix with a rubber spatula to combine. Add 150g of the meringue and mix through vigorously to combine. Gently fold through the rest of the meringue until well incorporated. Transfer to a piping bag and pipe 2cm circles onto prepared tray. Tap tray on bench to help flatten macarons and place into oven until feet are just dry, about 15 minutes. Remove from oven and set aside to cool.
To make the Black Sesame Ice Cream, combine milk, cream and vanilla in a small saucepan and bring to a simmer.
In a separate bowl, whisk egg yolks and caster sugar until pale. Whisk in 1/3 of the milk mixture into the egg mixture. Pour egg and milk mixture back into saucepan, add black sesame powder and heat stirring continuously until mixture thickens and coats back of a spoon. Remove from heat and cool over ice bath. Place into ice cream machine and churn according to manufacturers instructions.
To make the Sesame Snaps, heat caster sugar, honey, salt and 10ml of water until a small saucepan over low heat until dissolved. Grate in nutmeg, to taste. Add black and white sesame seeds and cook until golden in colour, about 4-5 minutes. Add vanilla, butter and bicarbonate of soda and stir to combine. Spoon into silicone cupcake moulds, using back of spoon to evenly spread mixture around base and sides and set aside.
To make the Black Sesame Balls, fill a small saucepan with water and bring to a simmer over medium heat. Add palm sugar and knotted pandanas leaves and simmer for a further 20 minutes.
Meanwhile, mix sesame powder, icing sugar and butter together to form a paste filling and set aside.
In a separate bowl, mix glutinous rice flour with 250ml of luke warm water to form a dough and set aside for 3 minutes. Pinch cherry-sized balls of dough, working quickly, place a portion sesame filling in the middle. Encase the filling with the rice dough and place into the saucepan to cook, when the balls rise to the surface, remove saucepan from heat and set aside. Colour any remaining dough with a little red food colour, form into heart shapes and cook as above for garnish.
To serve, use a pastry brush to create a line of remaining buttercream along the middle of the serving plates. Place some black sesame balls into a small ramekin with some of the poaching liquid. Place sesame praline cup on plate and fill with a scoop of ice cream. Pipe some buttercream onto a macaron shell and attach a second side, then place onto plate. Finish with black sesame seeds and red rice balls.
Leftover macarons shells can be filled and stored in the fridge in an airtight container.