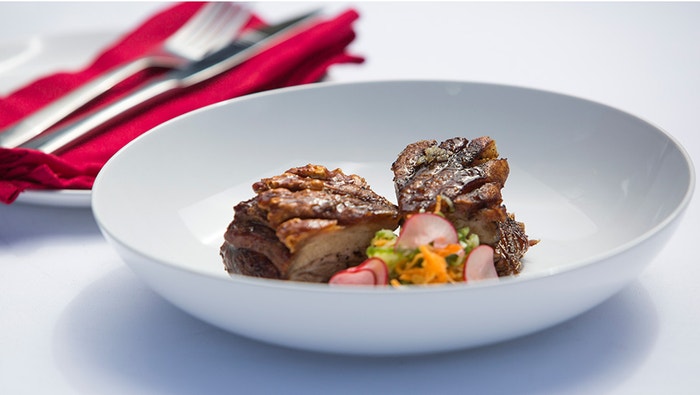 Steps
Preheat oven to 220C.
To make the five spice rub for the pork belly, place the star anise, fennel seeds, cinnamon, cloves and Szechuan pepper in a pan over medium heat to toast for 2-3 minutes until fragrant. Transfer to a mortar and pestle and crush and set aside.
Meanwhile, prepare the pork belly by scoring the skin diagonally at 1cm intervals.
Rub the pork belly bone side with the spice rub. Rub salt thoroughly all over the skin. Place the pork belly onto a rack and place into a large roasting tray. Add hot water to pan, ensuring it doesn't touch pork.
Cover tightly with foil and roast in the oven for 90 minutes.
Remove foil and continue roasting for 45 minutes, until pork is tender and skin is crisp. Switch to grill setting and place pork under grill, without burning, until crisp. Remove from oven and rest for 20 minutes. Cut into 20 x 4cm squares and set aside, keeping warm.
To make the Sticky Sauce, place ¼ cup brown sugar into a small saucepan along with 1 tbsp vinegar and place over a low heat. Allow sugar to caramelise for approximately 5 minutes. Add remaining ingredients and reduce for 15-16 minutes until glossy and a caramel consistency. Strain through a fine sieve and pour into a squeeze bottle.
To prepare the Pickled Vegetables, finely shred carrots and cucumber and place into a medium bowl. Using a mandolin, finely slice radishes and add to carrots and cucumber and set aside. Make the pickling liquid by combining the sugar and vinegar in a pan with 1/2 cup water and bring to the boil, stirring until sugar dissolves. Set aside to cool slightly and pour over sliced vegetables. Set aside for 30 minutes and drain before serving.
For the Chargrilled Corn, cut each baby corn in half at a 45o angle. Place oil onto a grill pan and place over medium high heat. Add garlic and fry for 2 minutes until fragrant. Add the baby corn and soy sauce. Sprinkle with a little water and continue tossing for 5-6 minutes until the baby corn are tender and slightly brown on the outside. Sprinkle with the chilli powder and toss to coat through. Remove pan from heat and set aside.
To serve, place some Sticky Sauce in the base of each shallow bowl. Add 2 pieces of pork to each plate. Place approximately 1 tbsp pickled vegetables next to the pork belly. Place two pieces of corn on the side of the plate and drizzle pork with some extra sauce.