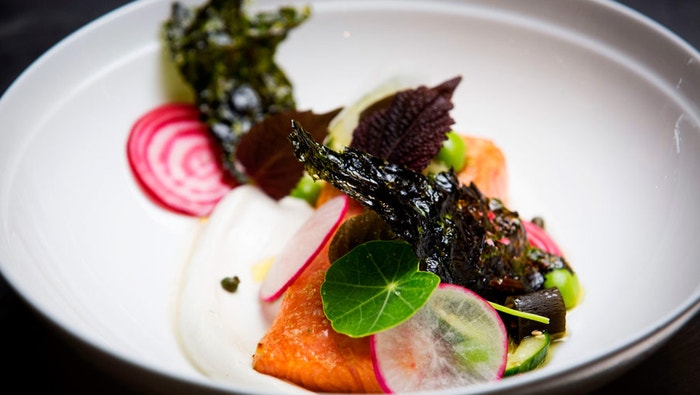 Steps
For the Dashi Yoghurt, line a fine strainer with a clean chux and place over a bowl. Add yoghurt and allow to hang overnight and allow the liquid to drain from the yoghurt. When the yoghurt is dry place in a bowl and mix with dashi powder. Set aside until required.
Preheat oven 180C.
Prepare the side of ocean trout by cutting the side of ocean trout in half lengthways. Cut the top quarter fillet off the side of ocean trout and cut widthways into 4 barrels. Reserve 4 barrels on a plate, covered in the fridge. The remaining tail end pieces and any trimmings of ocean trout can be used in a tartare or stored in refrigerator for another use.
For the Cured Trout, place all ingredients except for the ocean trout into a mixing bowl and mix together by rubbing with your hands. Place one portion of trout into the bowl and cover in the sugar mix coating all sides. Set aside in fridge for at least 1 hour. Remove trout from bowl and wash any excess sugar off and pat dry. Dip the presentation side of the fish into some sesame seeds to coat and set aside presentation side up in the fridge until required for plating.
For the Pickled Trout, soak kombu ribbons with ½ tsp dashi powder and 60ml hot water until soft. Drain kombu and place into a medium sized bowl. Add all remaining ingredients except for the ocean trout into the bowl and mix to combine. Submerge one trout portion in the liquid, cover and set aside in fridge to cure for at least 30 minutes. Remove from liquid and set aside covered on a plate in the fridge until required. Reserve pickling liquid mix for plating.
For the Hot Smoked Trout, place cherry wood chips into a medium pan into oven for 20 minutes. Transfer hot chips to a hot wok over high heat. When hot add apple wood chips and green tea. Use a blow torch to help the chips to smoke if needed.
Lightly oil a wok stand and place in wok over wood chips. Season remaining 2 portions of trout with sugar, salt and sansho pepper, then place onto stand, cover with a lid and cook for 2 minutes on heat. Turn heat off and leave for 3 minutes. Remove immediately from wok.
To serve the fish 3 ways, slice Cured Trout, Pickled Trout and Hot Smoked Trout on a serving plate.
To serve the Hot Smoked Trout with Dashi Yoghurt, place a spoon of Dashi Yoghurt on the plate, place piece of smoked trout on top then top with some of the reserved pickled cucumber and nori pieces. Add some edamame, daikon, beetroot, radish, caper leaves, pepper berries, shiso leaves, nasturtium leaves and torn pieces of Korean laver.
Notes
Prepare dish by preparing dashi yoghurt for Hot Smoked Trout the night before.