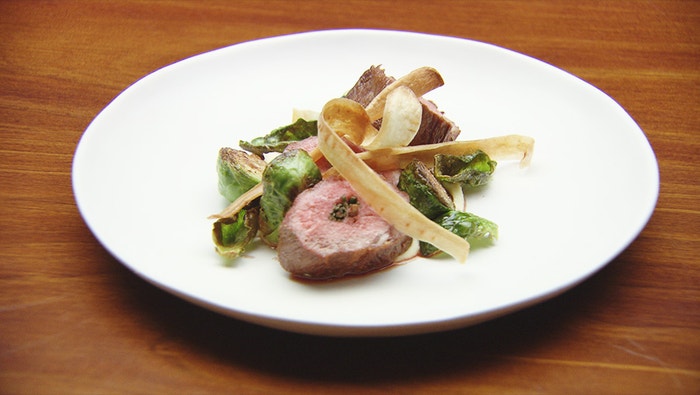 Steps
Preheat oven to 180C.
For the Leek and Parsnip Puree, bring a small saucepan of water to the boil. Add the parsnip and simmer over low heat until soft, about 25 minutes. Remove from the heat and drain the water from the pan. Cover and set aside.
Place a medium frypan with olive oil over low heat. Add the leek and cook until soft and golden, about 6-7 minutes. Transfer the leeks to the saucepan with the cooked parsnip.
Using a stick blender, blend the leek and the parsnip. Add the cream and butter and blend until smooth. Stir in the yoghurt and season with the lemon juice and salt, to taste.
Pass the puree through a sieve and set aside, covered, keeping warm.
For the Cannon of Lamb, remove lamb fillet from the rack. Trim lamb of all sinew and fat and reserve for later use.
Push a skewer through each fillet lengthways, wriggling the skewer a little to create an opening through the centre of each fillet. Starting with the stem end, push a rosemary sprig through the opening in the lamb then season with salt.
For the Charred Brussels Sprouts, place the lamb fat into a frypan over low heat. Allow the fat to render and cover the base of the pan.
Place the Brussels sprouts into the pan, cut side down and cook until browned, about 5 minutes. Turn the sprouts over and cook until just tender. Remove from the heat and season with salt. Transfer to a small tray and cover loosely with foil. Set aside in a warm place.
To cook the lamb, place an oven safe medium frypan over medium high heat. Add the oil and when hot, add the lamb and cook until browned on all sides.
Transfer the frypan to the oven and cook until the internal temperature has reached 48C, about 6-8 minutes, or longer until cooked until to your liking.
Remove from oven and allow to rest, covered loosely with foil, before slicing to serve. Season with salt.
For the Parsnip Chips, heat the oil in a medium saucepan to 180C.
Using a vegetable peeler, peel strips from the parsnip lengthways. Sprinkle with salt to draw out moisture and set aside for 5-10 minutes.
Pat dry with a paper towel then cook the parsnip in the hot oil until golden and crispy, about 2 minutes.
Remove from the oil and place onto kitchen paper. Sprinkle with salt while hot.
For the Crispy Brussels Sprouts Leaves, pat the leaves dry with paper towel. Cook in the hot oil until crispy.
Remove from the oil and place onto kitchen paper. Sprinkle with salt.
To serve, spoon the puree into the centre of each plate. Arrange lamb slices over the puree. Arrange the Charred Brussels sprouts around and scatter with Place Crispy Brussels Sprout Leaves around the fillet and top with Parsnip Chips.