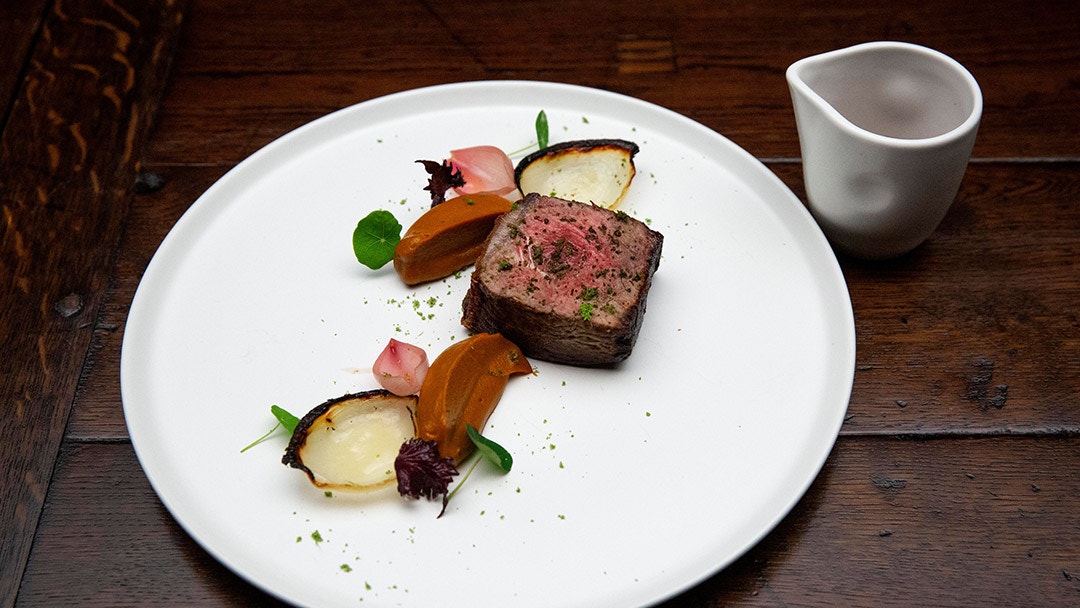 Steps
Preheat oven to 180C.
For the Red Wine Reduction, place the beef bones, rosemary, thyme and salt and pepper into a flameproof oven-safe roasting dish and roast in the oven until bones are browned. Remove herbs part way through cooking before they burn.
Remove from the oven and place over a medium heat. Add 2 tablespoons brown sugar and stir in. Deglaze with the red wine and allow to simmer until reduced by half.
Add the beef stock and boil for 5 minutes. Strain the mixture through a fine sieve into a small saucepan.
Place over a high heat and simmer for 5 minutes to reduce. Spoon away the fat from the surface of the liquid and reserve for the Roasted Onion. Add the remaining 2 tablespoons red wine, sugar and salt, to the sauce, to taste.
Remove from the heat and whisk in the butter. Pour into a serving jug. Cover and keep warm.
For the Pumpkin Puree, place the pumpkin, oil, salt and pepper into a roasting tray and toss together. Place into the oven and cook until caramelised, about 45 minutes.
Transfer pumpkin to the bowl of a food processor along with the remaining ingredients and blend until smooth. Season to taste and set aside.
For the Roasted Onion, place the oil in a roasting dish. Add the onion halves, cut side down.
Roast onions in the oven for until soft and charred, about 30 minutes.
Remove from the oven and segment into 'petals'. Spoon reserved beef fat over onions and set aside.
For the Pickled Onions, cut the shallots in half lengthways and separate into individual petals. Place the sugar and 2 tablespoons water into a saucepan and place over medium heat. Allow sugar to melt then bring to the boil. Add the remaining ingredients, stirring to combine. Remove from the heat and set aside for 30 minutes. Drain well.
For the Fillet of Beef, season the steaks on all sides. Heat a large fry pan over medium high heat. Add the oil and when smoking hot, add the steaks and sear on all sides until well browned.
Add the remaining ingredients and transfer the pan to the oven and cook to your liking or to medium, when the internal temperature of the steaks reaches 50C.
Remove from the pan and transfer the steaks to a chopping board. Reserve the pan juices. Allow steaks to rest for 10 minutes then slice each steak into two portions to serve. Cover loosely with foil to keep warm.
For the Rosemary Salt, place the rosemary leaves and salt into a spice grinder and process to a fine powder. Set aside.
To serve, place two quenelles of Pumpkin Puree on each plate. Add some Pickled Onions and Charred Onions. Place Seared Sirloin in the centre and sprinkle the dish with Rosemary Salt. Serve Red Wine Reduction on the side. Garnish with nasturtium and shiso leaves.