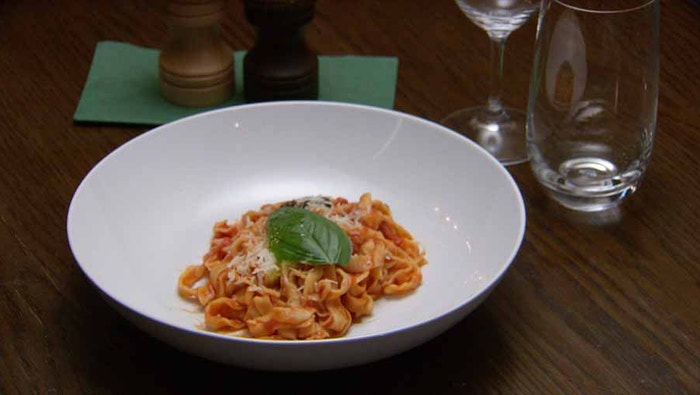 Steps
Preheat oven 200C. Bring a large saucepan of salted water to the boil.
Meanwhile, prepare the Arrabiata Sauce. Place garlic cloves onto a piece of aluminium foil. Drizzle with 10ml of the olive oil and season with salt. Place into the oven and cook until soft, about 30-35 minutes. Remove from the oven and allow to cool.
Heat 30ml olive oil in a medium saucepan over medium heat and cook, stirring, for 3 minutes until translucent. Squeeze roasted garlic to remove the skins then add garlic flesh to the pan.
Remove skin from sopressa salami and cut into 0.5cm by 4cm long strips. Add the salami to the pan and cook until fat renders out of the salami.
Add olives, dried chilli flakes and fresh chilli and continue to cook for a further 2 minutes.
Add the tomato paste and tinned tomatoes and use a wooden spoon to break up the tomatoes. Stir in the passata, 1 cup of water and season with salt. Simmer sauce over low heat for 30 minutes, stirring occasionally. Adjust consistency with some more water if needed and season to taste. Remove from heat, cover and set aside, keeping warm.
For the Fettuccine, place flour, eggs, salt and olive oil into a food processor. Pulse until a dough forms and comes away from the sides of the processor bowl. Transfer dough to a lightly floured work surface and knead until smooth, about 5 minutes. Wrap dough in cling film and place into the fridge to rest for 30 minutes.
Remove dough from fridge, unwrap and cut into 6 portions. Flatten each portion and dust in a little extra flour.
Pass dough through the pasta roller starting on the thickest setting to laminate the dough and repeat another 2 to 3 times until smooth. Decrease setting and continue to pass pasta through roller from the thickest to the thinnest setting. Pass the rolled sheets through the fettuccine attachment and dust with a little flour to separate the ribbons of pasta. Repeat process with remaining dough.
To serve, add fettuccine to the prepared pot of boiling salted water and cook until al dente, about 3 minutes. Drain pasta in a large colander, reserving some cooking water. Return drained pasta to the pot. Add reserved Arabiata Sauce and toss gently to coat the pasta in the sauce. Loosen with a little reserved cooking water if desired. Divide between serving bowls and top with some grated parmesan cheese and a basil leaf for garnish.