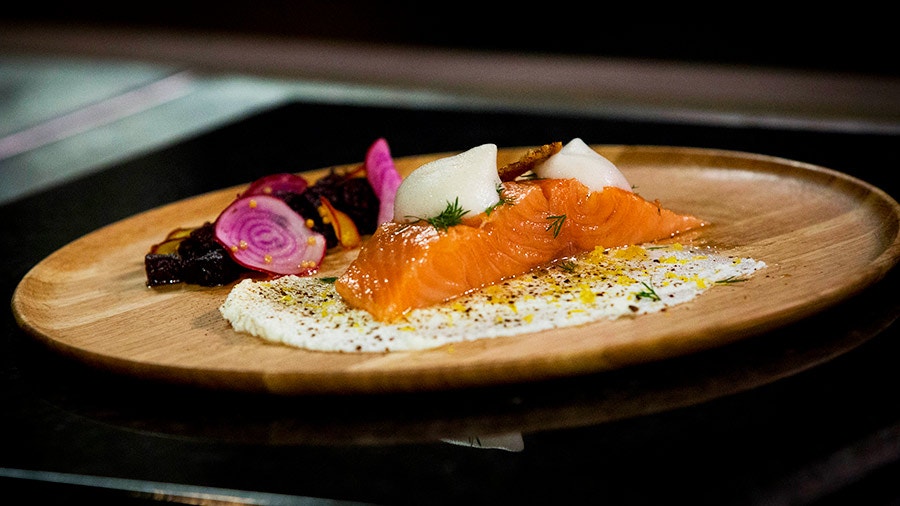 Steps
Preheat oven to 180C. Half fill a medium sized oven safe dish with water and place onto the bottom shelf of the oven.
For the Roasted Beetroot, spread cubed beetroot out onto a baking tray. Coat with oil, season with salt and pepper and toss to evenly coat. Place into the oven and roast until just soft, about 30-35 minutes. Remove from the oven and set aside.
Melt butter in a small frypan over medium heat then add the roasted beetroot cubes and balsamic vinegar. Gently toss beetroot through the butter and balsamic to coat then remove from heat and set aside, keeping warm.
For the Crispy Salmon Skin, first line a baking tray with baking paper. Carefully remove skin from fillets and lay skin onto the lined baking tray. Reserve fillets in the fridge until needed. Drizzle skin with olive oil and season with salt. Cover with a second sheet of baking paper and top with a second baking tray to weigh down. Place into the oven until crisp, about 30 minutes. Remove from oven and set aside on the bench until needed.
For the Pickled Beetroot, place golden beetroots into one small bowl, and target beetroots into a second small bowl and set aside.
Combine vinegar, sugar, bay leaf, cloves, mustard seeds and ¼ cup water in a small saucepan and bring to the boil, stirring occasionally, until sugar has dissolved.
Remove pickling liquid from the heat and pour half of the liquid over each of the bowls of sliced beetroot, ensuring pieces are completely coated. Set aside to pickle until needed.
For the Lemon and Thyme Foam, combine lemon juice, sugar, thyme and ½ cup of water in a small saucepan. Place over medium heat and bring to the boil, stirring occasionally until sugar has dissolved. Remove from heat and set aside in the saucepan to steep until needed.
For the Smoked Goats Curd, mix goats curd and yoghurt together in a medium bowl until combined. Cover with cling film, then insert the hose of a smoking gun and reseal cling film tightly. Fill the smoking gun with smoking chips. Light smoking chips allowing the bowl to fill with smoke, then remove hose and reseal the bowl. Set aside to smoke for 4 minutes, then remove cling film and season to taste. Set aside until needed.
For the Confit Salmon, pour oil into a heavy based saucepan over low heat and bring to 50C. Once at temperature, gently place salmon fillets into the oil and cook at 50C until medium rare, about 12 minutes. Use a thermometer to ensure that the temperature remains at 50C. Remove salmon from oil and transfer to a cooling rack set over a baking tray to allow excess oil to drip off.
To finish the Lemon and Thyme Foam, Strain the mixture into a cylindrical canister. Add soy lecithin powder and use a stick blender to blitz the mixture until a foam has formed on the surface, about 30-45 seconds.
To serve, spread a crescent of Smoked Goats Curd onto the side of each plate. Use a microplane to finely grate 2-3 coffee beans over the Smoked Goats Curd and top with some lemon zest. Sit a Confit Salmon fillet to one side of the curd layer and top with a piece of Crispy Salmon Skin. Using a desert spoon, skim some of the Lemon and Thyme Foam from the top of the mixture and place a spoonful on either side of the salmon skin. Spoon some of the Roasted Beetroot pieces in a line to the other side of the plate and top with some Pickled Beetroot Pieces. Finish with some dill fronds and thyme leaves.