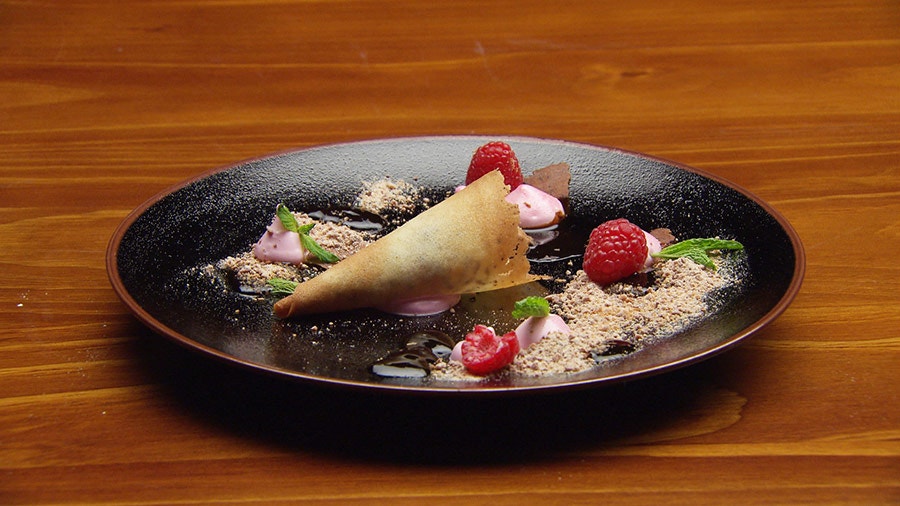 Ingredients
Smoked Coffee and Rum Ice cream
Salted Roast Chocolate Powder
Steps
Preheat oven to 180C. Pre chill ice cream machine.
For the Smoked Coffee and Rum Ice Cream, place cream and milk into a medium saucepan and bring to a simmer over medium heat. Add the instant coffee, rum and coffee beans and whisk to combine.
Meanwhile, whisk the egg yolks and sugar together in a medium bowl. Whilst whisking, slowly add the milk and cream mixture. Return mixture to a saucepan and cook, stirring constantly, on a low heat until mixture thickens and coats the back of a spoon. Strain through a fine sieve into a bowl set over an ice bath. Once cool, fill bowl with smoke from smoking gun filled with apple chips. Cover tightly with cling film and set aside for 5 minutes. Transfer mixture to chilled ice cream machine and churn according to manufacturer's instructions. Set aside in the freezer.
For the Coffee Jelly, place coffee, rum, sugar and 250ml water in a small saucepan and set over medium heat, stirring until all the sugar dissolves. Squeeze out excess moisture from gelatine leaves then add gelatine to saucepan. Strain into a 8cm x 18cm shallow baking tray, skimming any foam off the top, and place in fridge to set. Once set, cut into squares and set aside.
To make the Salted Roast Chocolate Powder, place chocolate onto lined baking tray. Roast for 15-20 minutes, stirring every 5 minutes or until golden brown. Remove from oven and set aside to cool. Transfer to a food processor, add tapioca maltodextrin and salt and process to a fine powder. Set aside.
To make the Coffee Tuille cones, place all ingredients, except instant coffee, in a small bowl and stir until well combined. Spread batter into 2 x 16cm circles thinly on a sheet of parchment paper using an offset spatula. Sprinkle lightly with coffee powder. Bake until golden brown in the middle and brown on the sides, about 8-10 minutes. Working quickly, remove the circles from the baking paper, shape into cones and set aside to cool. Repeat process to make another two cones.
To make Raspberry Marshmallow, place raspberry and caster sugar in a small saucepan and set over low heat. Simmer until mixture is thick, about 8 minutes. Squeeze out excess water from the gelatine leaves, add gelatine to the saucepan and mix until melted through. Strain into a bowl of an electric mixer fitted with a whisk attachment. Whisk the raspberry mixture until thickened, pale and creamy, about 10-12 minutes. Spoon into piping bag and set aside.
To serve, secure Coffee Tuille Cones in the centre of each serving plate with a small dollop of the Raspberry Marshmallow. Pipe some marshmallow drops around the plate. Add some Salted Roast Chocolate Powder, Coffee Jelly, fresh raspberries and mint leaves around the plate. Place a scoop of Smoked Coffee and Rum Icecream at the open end of each cone.