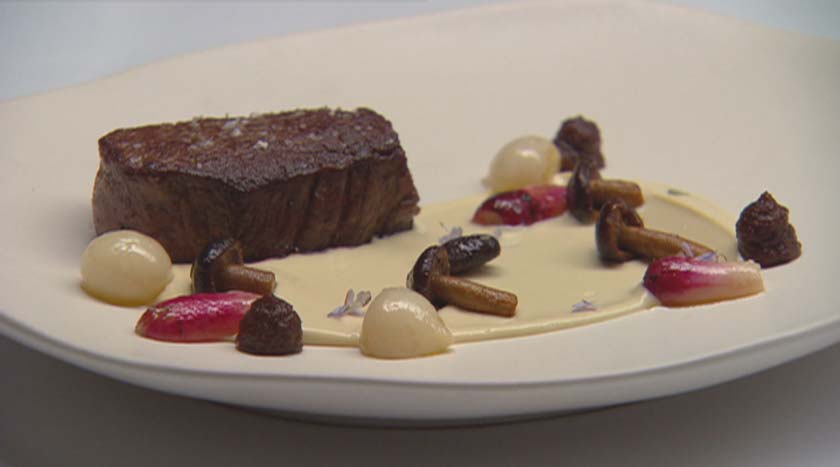 Steps
Preheat oven to 220C, and heat a saucepan of water or water bath to 55C.
Trim eye fillet, removing any sinew. Set trimmings aside. Cut fillet into 4 x 180g steaks. Heat 2 tablespoons of oil in a large frying pan over medium-high heat. Quickly sear beef until completely browned, then place each steak into an individual food saver bag with 1 tablespoon oil, 2 rosemary sprigs, and 4 thyme sprigs. Vacuum seal. Alternatively you can use zip-lock bags, double bagging to ensure there is no leakage. Place bags into water bath for 20 minutes, ensuring the temperature is maintained at 55C. Remove bags, and set aside to rest for 10 minutes.
Meanwhile, for the jus, heat oil in a saucepan over high heat. Cook eschalots and beef trimmings for 2 minutes or until caramelised, stirring regularly. Add port and wine, simmer for 5 minutes, then add stock, rosemary and thyme. Bring to the boil, then reduce heat to a simmer, and cook for a further 30 minutes. Strain mixture twice through a sieve lined with muslin cloth. Set aside until needed.
For the onion jam, heat oil in a frying pan over low heat. Cook onions for 15 minutes or until softened and translucent, but have not taken on any colour, stirring regularly.
Meanwhile, combine remaining jam ingredients in a small saucepan, and bring up to a gentle simmer. Cook for 5 minutes to allow flavours to infuse. Remove star anise, then transfer mixture to pan with onions. Simmer for 2 minutes, then transfer mixture to a blender, and puree until smooth. Transfer jam to a piping bag or sauce bottle if desired. Set aside.
Cauliflower Puree
For the cauliflower puree, melt butter in a large saucepan set over low heat. Cook cauliflower for 10 minutes or until softened. Add cream and cook for a further 10 minutes or until cauliflower is very tender. Transfer mixture to a blender and process for 2 minutes until very smooth. Set aside and keep warm. Gently reheat before serving.
Meanwhile, place radishes on a tray lined with baking paper, sprinkle with water, and season with salt and pepper. Roast in oven for 30 minutes.
Bring a small saucepan of water to the boil. Cook turnips for 8 minutes or until tender.
Place radishes and turnips in a bowl, drizzle with oil, season with salt and pepper, and toss to coat.
Melt butter in a frying pan over medium heat. Cook mushrooms for 8-10 minutes or until tender, stirring regularly. Season to taste.
To serve, remove steaks from bags. Heat a frying pan over high heat. Quickly sear steaks until caramelised and warmed through.
Place jus over low heat, and bring up to a simmer. Whisk in butter until combined.
Smear cauliflower puree onto plates, and place steaks to the left. Arrange with vegetables, and garnish with thyme leaves. Serve with onion jam, and jus on the side.