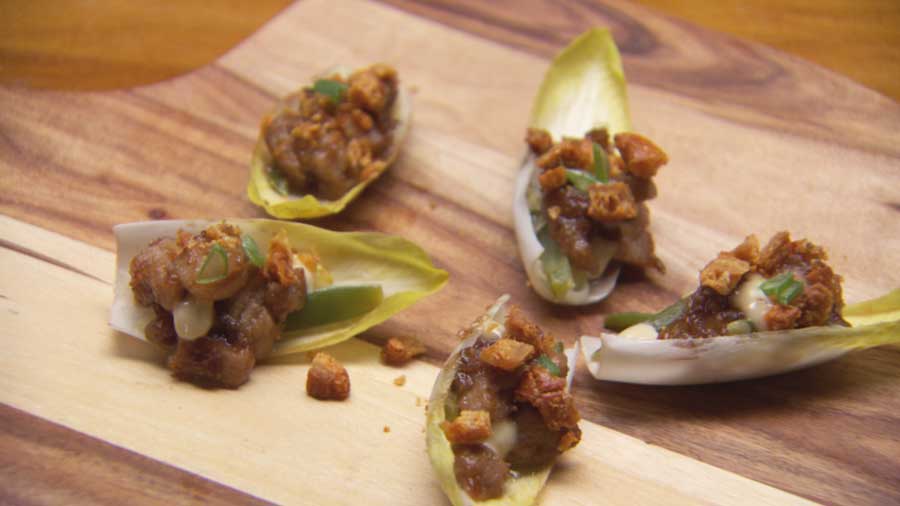 Steps
Preheat oven to 220C.
To prepare pork skin, remove skin from chops. Pour boiling water over skin and then dry thoroughly. Season well with salt and rub salt into skin. Place on a tray and in to the oven until golden brown and crisp, about 30 minutes. Remove from oven and set aside.
To make the mayonnaise, place the egg, vinegar, sugar, anchovies and salt in a food processor. With motor running, slowly add oil in a thin stream until mixture is thick and creamy. Add yoghurt and stir to combine. Set aside in the fridge.
To make the pickle, place water, vinegar, sugar, lemon zest pieces, whole cumin seeds and salt in a saucepan and bring to a boil over high heat.
Place the sliced endive and pig face in a bowl. Pour pickling liquid over the vegetables and set aside to cool. Once cooled, drain vegetables, remove lemon zest pieces and set vegetables aside.
Meanwhile, to prepare the pork, take the meat off the chop bones, cut into 1 cm cubes and place in a bowl. Add grape seed oil, cumin seeds, lemon zest, anchovies, and pepper and toss to coat.
Place fry pan over medium high heat. Add cubed pork and marinade ingredients and cook, stirring for 2-3 minutes. When almost done, add dates and muscat and stir to combine. Remove from heat, season and set aside.
To serve, place endive leaves on serving plates. Top with pickled vegetables and pork. Drizzle with mayonnaise and crumble crackling over the top.