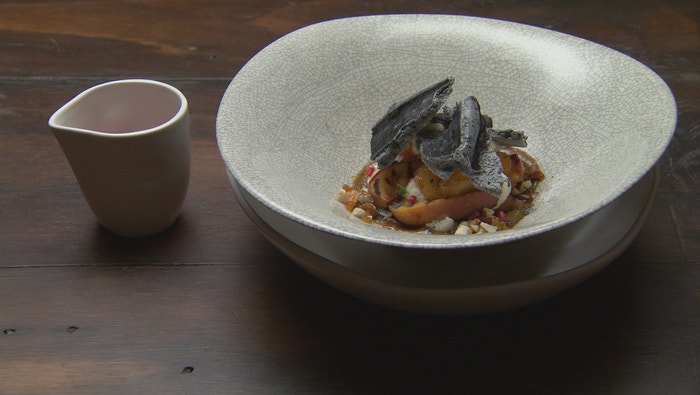 Steps
Preheat oven to 110C.
For the Charcoal Meringue, place egg whites in the bowl of an electric stand mixer fitted with the whisk attachment. Add a pinch of salt and whisk to soft peaks. Gradually add the sugars and whisk until thick and glossy and sugar has dissolved. Once egg whites are glossy, whisk in 1 teaspoon of the charcoal powder.
Spread the meringue thinly onto a large flat baking tray lined with baking paper. Sprinkle the meringue with the remaining teaspoon of charcoal powder to give an ashy effect.
Bake the meringue in the pre-heated oven until dry and crisp, about 1 hour. Turn off oven and allow to cool in oven with door partially open, until needed.
For the Goat's Cheese Mousse, place the goat's cheese, cream cheese and lemon juice in the bowl of an electric mixer fitted with a whisk attachment and whisk until smooth.
Add cream and icing sugar and whisk until light and creamy, about 2 minutes. Transfer to a piping bag and set aside in fridge until ready to serve.
For the Peach and Raspberry Syrup, place all ingredients, except for the extra chopped thyme leaves, into a medium saucepan over a low heat and simmer gently until peaches and raspberries have broken down and mixture has become syrupy, about 30 minutes. Remove mixture from heat and set aside.
Strain the syrup though a fine sieve into a medium bowl. Add the extra chopped thyme leaves and stir to combine. Transfer the syrup to a serving jug and set aside, keeping warm, until ready to serve.
For the Peach Jam, place all ingredients, along with 2 tablespoons of water, in a small saucepan over low heat until peaches have broken down and mixture becomes thick and jammy, about 15 minutes. Remove from heat and aside to cool until ready to serve.
For the Grilled Peaches, heat a griddle pan over medium high heat. Add peach wedges and cook until char lines appear and peaches are just starting to soften, about 5 minutes. Add sauterne to the pan to deglaze, remove pan from heat and allow peaches to cool until ready to serve.
For the Salted Almond Praline, toast almonds in a small frypan over medium heat. Remove almonds from the pan and set aside to cool until needed.
Make a dry caramel by placing caster sugar and into a heavy based frypan and melt over low heat until dark and golden, brushing down the sides of the pan with a pastry brush dipped in water occasionally to stop sugar from burning.
Once sugar has caramelised, stir in the toasted almonds and pour the mixture onto a flat baking tray lined with baking paper. Set the tray aside and allow praline to set completely.
Once praline is hard, break into shards and place into a food processor. Blitz on high speed to form a rough crumb. Season with black sea salt and set aside in a bowl until ready to serve.
For the Burnt Peach Butter, place peach slices in a large frypan over a high heat until blackened and charred on both sides. Remove from pan and roughly chop. Place peaches into a small saucepan along with the verjuice, sugar and 50ml of water, and cook over a medium heat until the liquid has evaporated. Remove from heat and blitz the peaches with a stick blender. Add the cubes of butter, one at a time, blitzing well after each addition, until a thick butter is achieved. Pass the mixture through a fine sieve and set aside in a small bowl until ready to serve.
To make Freeze Dried Raspberries, place raspberries into a liquid nitrogen safe double walled bowl. Wearing safety gloves, decant a small amount of liquid nitrogen from the canister and pour over the raspberries. Using a stainless steel slotted spoon, carefully transfer frozen raspberries into a clean tea towel. Wrap up and use the back of a spoon to break up the raspberries. Place the raspberry crumbs into a metal bowl and set aside in the freezer until ready to serve. Alternatively, purchase whole freeze dried raspberries and break up in a tea towel and set aside as per the instructions above.
For the Peach Ash Stock, place the reserved peach skins in a small frypan over high heat and cook until charred, blackened and dried out, about 8-10 minutes. Remove from heat, transfer to a tray and allow to cool. Once cold, place the skins in the bowl of a mortar and pestle and grind to a fine powder.
Dice the peach flesh to a fine dice and place in a small saucepan. Add the peach ash powder along with 2 cups of water. Place the saucepan over a medium – high heat and bring to the boil. Once boiling, remove the saucepan from the heat and set aside to infuse for 20 minutes. Once infused, strain through a fine sieve and transfer the stock to a serving jug, keeping hot, until ready to serve.
To serve, spread a little of the Burnt Peach Butter over the base of each serving bowl. Sprinkle a few mounds of Salted Almond Praline on to the butter and spoon some Peach Jam on and around the praline. Divide the Grilled Peaches amongst the 4 serving plates, placed on top of the praline. Pipe several mounds of Goat's Cheese Mousse around each plate and sprinkle a little black sea salt over the mousse. Scatter Frozen Raspberry crumbs around the Grilled Peaches and the mousse. Sprinkle a few fresh thyme leaves over the top of each dish.
Top each dish with broken pieces of charcoal meringue, crush a little of the meringue into a powder and sprinkle around the edges. Finish with a few more fresh thyme leaves.
Place several pellets of dry ice into 4 larger shallow bowls, just big enough for the serving bowls to sit in. When ready to serve, pour the hot Ash Peach Stock over the dry ice to create a smoky effect. Place the plated serving bowl on top of the dry ice bowl immediately and serve. Serve with Peach and Raspberry Syrup in a jug on the side.