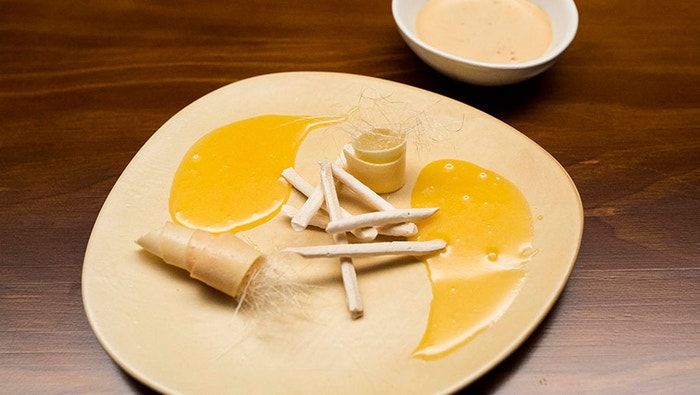 Steps
Preheat oven to 140C. Turn on ice cream machine to chill.
For the Butterscotch, heat sugar in a small saucepan over low heat until deep golden brown. Meanwhile, warm cream in a separate saucepan. Once sugar has formed reached colour, remove from heat and stir in warm cream and cubed butter. Add salt to taste, and set aside.
For the Butterscotch Ice Cream, heat cream and milk in a medium saucepan to just below boiling point. Whisk in reserved Butterscotch until combined. Meanwhile, whisk egg yolks and sugar in a separate bowl until pale.
Whisk a small portion of the reserved Butterscotch to the eggs and then pour egg mixture back into the cream mixture and whisk over low heat for until mixture thickens and reaches 82C.
Strain mixture into a bowl and cool over an ice bath. Transfer to ice cream machine and churn according to manufacturers instructions.
For the Meringue, place egg whites into a stand up mixer fitted with a whisk attachment and whisk whites to soft peak stage. Gradually add sugar until thick and glossy. Transfer to a piping bag fitted with a 5mm tip. Pipe lengths onto a paper lined baking tray. Bake until dry, about 10 minutes then set aside to cool.
Increase oven temperature to 160C.
For the Tuile, line a baking tray with baking paper. Place all ingredients into a food processor and blitz until smooth. Spread onto lined tray to 2mm thick and bake in the oven until golden, about 8 minutes.
Remove from oven and while tuile is still soft, cut into 15mm long strips and working quickly, twist tuile around a round handled wooden spoon or similar. Gently remove and set aside on a lined baking tray.
For the Curd, place all ingredients in a saucepan over medium heat and stir until thick. Strain then transfer to a piping bag and set aside in fridge.
For the Spun Sugar, combine sugar and vinegar with 1tbsp of water in a saucepan and heat to 155C until light golden. Remove from heat and set aside to cool for 5 minutes. Meanwhile set up two rolling pins 30cm apart on a bench. Dip a skewer into sugar and flick strands of sugar in a side-to-side motion over the rolling pins.
To serve, spoon Curd onto serving plates. Fill Tuiles with strands of spun sugar and add to plate. Add some sticks of Meringue and serve Butterscotch Ice Cream on the side.