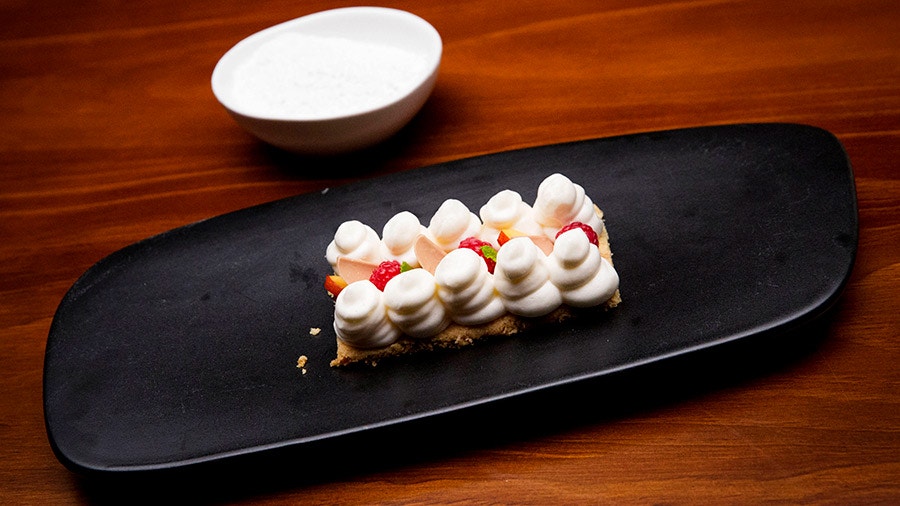 Ingredients
Nectarine and Rum Marshmallow
Steps
Preheat oven to 200C.
For the Coconut Biscuit, place all ingredients into a food processor and process to a fine crumb. Turn out onto the clean work surface and bring together to form a soft dough. Roll out to a 30cm x 10cm rectangle and slice into six 10cm x 5cm rectangles. Place on a lined baking tray and bake until golden, about 15-20 minutes. Remove from oven and set aside.
For the Raspberry Jam, place all ingredients in small saucepan and cook over low heat until raspberries break down. Simmer gently for 5-6 minutes until reduced to a jam consistency. Pass through a fine sieve. Spoon into a piping bag and set aside until needed.
For the Tempered Chocolate Discs, place chocolate in a glass bowl in the microwave in 30 second bursts until three quarters of chocolate has melted. Stir until all the chocolate has melted and is thick and glossy. Spread the chocolate over a sheet of acetate in a thin ribbon and leave to set. Heat a 2cm cookie cutter on a dry saucepan and use hot cutter to cut chocolate into semi circles. Set aside until needed.
For the Coconut Snow, place ingredients into a food processor and blend until a fine powder forms. Set aside until needed.
For the Nectarine and Rum Marshmallow, peel and cut the 1½ nectarines into small cubes, reserving one half for garnish. Place in a small saucepan with the rum, mint leaves and 2 tablespoons water. Cover and cook for 5 minutes until the nectarine is slightly soft. Remove mint leaves and puree the nectarine and rum with a stick blender until smooth. Set aside to cool.
Place sugar, glucose and 2 tablespoons water in a small saucepan and stir to dissolve sugar on low heat. Increase heat and bring sugar to 121C.
Meanwhile, place eggwhite in the bowl of an electric mixer fitted with a whisk attachment and whisk at medium speed until soft peaks form. While continuing to whisk, slowly pour in hot sugar syrup. Squeeze gelatine of excess water then add gelatine to bowl. Continue to whisk until cool then add nectarine puree. Whisk until cool, light and fluffy. Transfer to a piping bag and set aside.
To serve, place biscuits onto serving plates. Pipe raspberry jam along the centre of biscuits, followed by nectarine marshmallow either side of raspberry jam. Place tempered chocolate, fresh nectarine and raspberries over the jam and top with fresh mint leaves. Dust with the coconut snow.