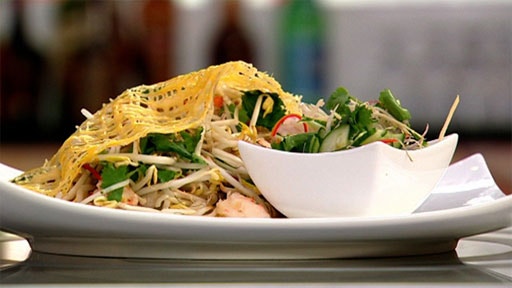 Steps
Strain the eggs, then leave for a few hours to settle. This allows the proteins in the egg to break down so that it streams when you make the eggnet rather than clumping together.
To make the cucumber relish;
Boil the vinegar with the sugar, garlic and coriander roots. Strain and cool.
Toss the cucumber, eschallot, ginger, chilli and coriander leaves together, then mix into the vinegar mixture. Place in a serving bowl.
To make the caramel coconut sauce;
Pound the garlic, coriander roots, ginger and white peppercorns to a paste in a mortar and pestle.
In a heavy-based pot, add as little oil as possible and fry off the paste until light brown. Add more oil if needed (it can be strained off before the sugar is added).
Add the palm sugar and stir until it melts (add some hot water if necessary)
Let the sugar slightly caramelize then add the coconut, shrimp paste and ground shrimp.
Bring the mixture to a light boil, add the fish sauce and water. Stir well and taste – should be sweet and salty. Set the sauce aside and cool to room temperature.
To make the eggnets;
Heat some oil in a non-stick pan.
Dip fingertips in the beaten egg and drizzle the mixture over the pan in opposite directions to form a cross hatch pattern. (This is a messy process, so cover your stove with foil before you start.)
Once the egg sets transfer to a plate. Repeat. You should be able to make 8 eggnets. If making ahead of time, cool cover with clingfilm to stop them from drying out.
To make the filling;
Toss the prawns in a hot wok in a little oil until just cooked.
Remove prawns and cook the pork.
Set pork aside and cool to room temperature, then mix with the rest of filling ingredients.
Bind the filling with caramel coconut sauce and taste, adjusting if necessary. Add a squeeze of lime for freshness.
To Serve:
Place the eggnet on a serving plate. Put the filling on one side of the eggnet and fold over. Serve with cucumber relish.