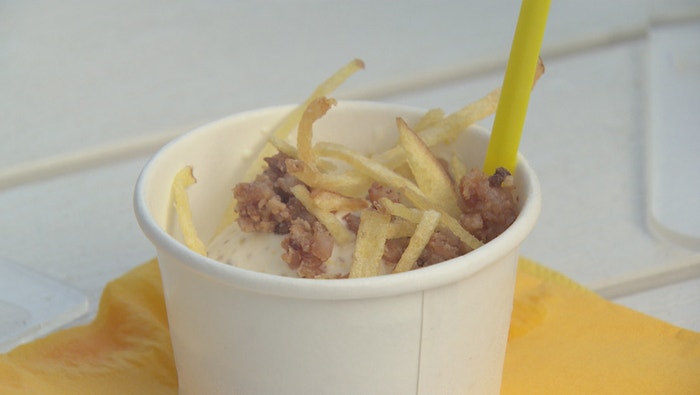 Steps
Preheat oven to 200C. Turn on ice cream machine to chill.
For the Mustard Ice Cream, combine milk, cream, milk powder, sugar, mustard and 1 tablespoon of salt flakes into a blender and blitz until sugar has dissolved, about 2 minutes.
Transfer mixture to pre-chilled ice cream machine and churn according to manufacturer's instructions until set. Once set, transfer ice cream in freezer until ready to serve.
For the Crispy Bacon Crumb, spread bacon onto a baking tray lined with baking paper and drizzle with olive oil. Place into the oven and bake until crispy, about 15-20 minutes. Remove from oven and set aside to cool completely. Transfer to a food processor and blitz to a crumb. Set aside.
For the French Fries, peel and slice potato 2mm thick slices, then cut into matchsticks. Soak potato matchsticks in a bowl cold water for 20 minutes. Strain and set aside on paper towel to dry. Heat a medium saucepan of oil to 190C. Add potatoes and fry until bubbles disappear and fries are golden. Remove from oil and drain on paper towel. Season with salt flakes and set aside.
To serve, place a scoop of the Mustard Ice Cream into a waffle cone or cup. Sprinkle with Crispy Bacon Crumb, French Fries and some sea salt if desired.