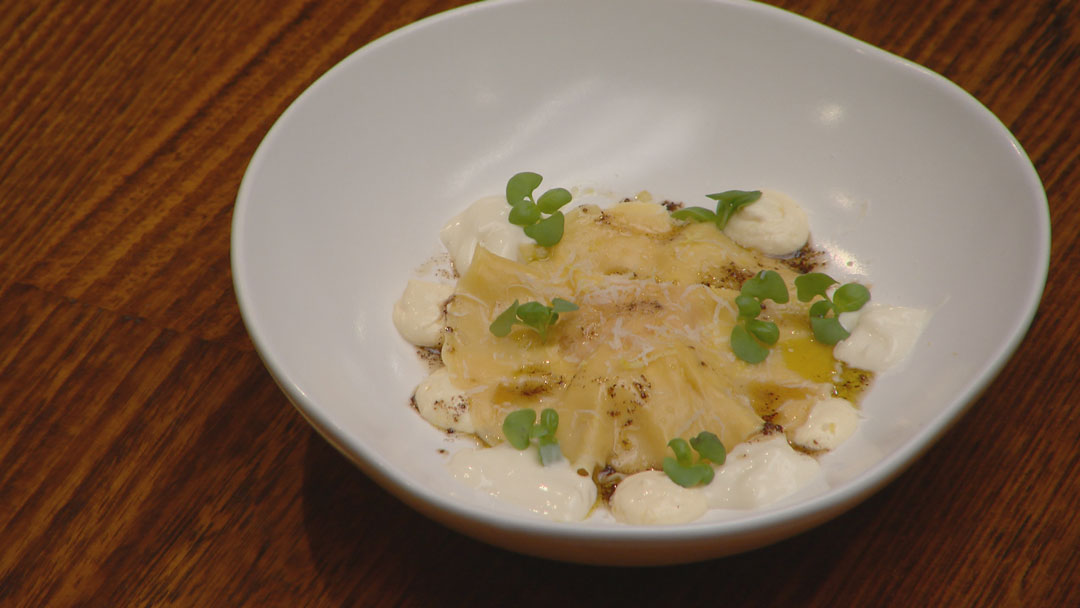 Steps
For the Pasta Dough, place ingredients into the bowl of a stand mixer fitted with a hook attachment. Mix ingredients on low speed until combined, then increase speed to medium and mix for 8 minutes. Remove from bowl and knead briefly on a clean bench into a smooth ball. Cover with cling film and place into fridge to rest for 20 minutes.
Divide dough in half. Working with one portion at a time, pass a portion through a pasta machine, folding dough into thirds onto itself after each pass. Once at its thinnest setting, lay dough sheet onto lightly floured bench and cover. Repeat with remaining portion.
For the Filling, place milk and cream into a large saucepan over high heat. Bring to a rolling boil, then add the lemon juice and reduce heat to low. Stir occasionally and allow the mixture to separate, about 2 minutes.
Pour through a lined sieve and place the curds into the fridge to cool.
Once cool, transfer to a food processor along with creme fraiche, thyme, lemon zest, 1 egg and a generous pinch salt. Process until smooth. Transfer to a piping bag.
To assemble the ravioli, cut 16 x 11cm rounds from the dough.
Pipe a small ring of ricotta filling onto 8 rounds. Carefully place an egg yolk onto the top of the ricotta and season with sea salt. Lightly beat the remaining egg and brush around ricotta using a pastry brush. Cover with the remaining rounds of pasta. Press firmly but carefully around ricotta to seal without breaking the yolks.
When ready to serve, cook the ravioli in boiling water until pasta is cooked through and the yolk is still runny, about 3 ½ - 4 minutes. Remove from the water with a slotted spoon and place onto a tray.
For the Parmesan Foam, place parmesan, milk and cream into a saucepan over low heat. Heat the mixture to 60C, stirring until mixture has combined. Remove from the heat.
Season with salt then add xanthan gum and blend with a stick blender for 20 seconds.
Transfer the mixture to the canister of a large/500ml capacity syphon gun. Seal and charge with 1 cream bulb. Set aside in a water bath heated to 60C to keep warm until serving.
For the Burnt Butter, place a frypan with the butter over medium high heat. Cook until nut brown in colour. Remove from heat and add lemon juice and salt. Set aside.
To serve, pipe some ricotta filling into the centre of each serving bowl and gently place a raviolo on top. Pipe more ricotta around and add some Parmesan Foam. Spoon over Burnt Butter and drizzle with olive oil. Season with sea salt and garnish with grated parmesan and basil leaves.