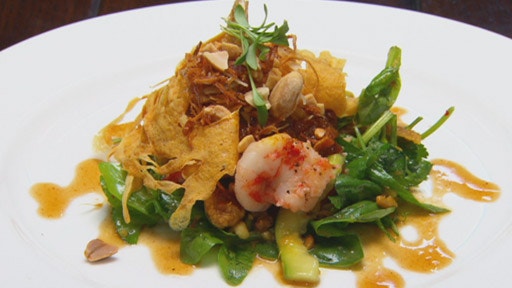 Steps
Preheat oven to 200°C.
For egg nets, whisk all the ingredients together in a bowl until just blended. Set aside to rest.
For sambal paste, place all ingredients in a food processor except for oil and process until finely chopped. Heat oil in a medium saucepan or wok over medium heat, add the paste and cook, stirring occasionally to avoid sticking for 8-10 minutes or until fragrant, adding a little more oil if necessary. Remove from the heat and set aside 1 tablespoon for Ma Hor.
For sambal sauce, spoon the sambal paste into a small frying pan, add tamarind puree and brown sugar and a good pinch of salt and cook over medium heat for 3-5 minutes. Set aside.
For Ma Hor, heat oil in a wok or deep fryer to 160°C. Deep-fry eschalots until golden, drain on paper towel. Spoon a little of the hot oil in a frying pan and fry pork mince, stirring to break it up until slightly coloured. Drain off liquid and transfer mince to a bowl. Add a little more oil to the pan and cook chicken mince until lightly coloured, drain and add chicken mince to pork mince. In same pan heat 2 tablespoons oil add the reserved one tablespoon sambal paste and cook, stirring for one minute. Add palm sugar and fish sauce and cook until sugar has dissolved and has slightly thickened. Add the cooked mince and cook until caramelised and sticky. Squeeze over the lime, remove from heat, add crispy eschalots and peanuts (reserve some of each for salad) and toss well.
For tamarind dressing, place all ingredients in a small saucepan, bring to the boil and reduce until slightly thickened. Set aside to cool. Place in a squeezy bottle.
For crispy fish skin, place skin on a well oiled tray, rub skin with oil and sprinkle generously with salt flakes. Bake until skin is crisp. Drain on a rack, cool, break into pieces,
For crispy taro, wash sliced taro to remove starch, drain on a clean tea towel or paper towel and squeeze out as much liquid as possible. Deep fry at 160°C until golden.
To cook egg nets, pour rested mixture into a squeezy bottle with adjustable lid. Rub a little oil onto a non-stick frying pan, place over medium heat and adjust nozzle so a thin steady stream of batter comes out. Squeeze batter into the pan in overlapping circles to create a lacy egg net. It's ready when the sides start to curl up. Repeat until you have 4.
Pan fry the prawns in a little oil until just cooked, season with salt and pepper.
For salad, place tomatoes and cucumber in a large bowl and dress with lime juice, a pinch of sugar and a teaspoon of sambal sauce. Mix through herbs, reserved crispy eschalots and peanuts, crisp fish skin (set aside 4 pieces) and enough tamarind dressing to coat.
Drizzle tamarind dressing on each plate, place a pile of salad on top of dressing, carefully lay 2 prawn halves on top and dress with a dollop of sambal sauce. Top with egg nets, crispy fish skin and crispy taro.
Notes
Preparation: 30 minutes Cooking: 1 hour 30 minutes