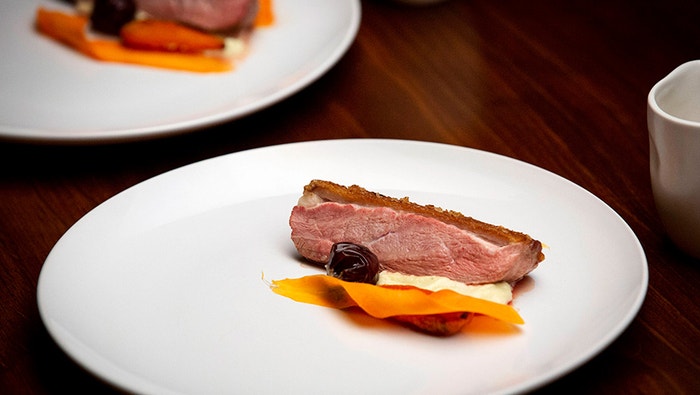 Steps
Preheat oven to 180C.
For the Pickled Carrots, place the vinegar, sugar, salt and 50ml water in a small saucepan. Bring to a boil over medium-high heat. Add the peppercorns, clove and star anise and continue to simmer for 5 minutes. Strain the pickling liquid over carrots and allow to sit for 10 minutes. Drain and set aside until serving.
For the Duck Jus, in a large deep frypan, heat the olive oil over high heat. Add duck carcass and wing tips and caramelise until golden brown, about 10-15 minutes. Add carrots, celery and onion and cook until the vegetables have softened and the onions are translucent. Add the garlic, juniper berries, star anise and cloves and cook, stirring continuously until fragrant. Add 600ml water and pitted dates and simmer over a medium heat until reduced and a syrupy consistency, about 35-40 minutes. Remove from heat, strain and season to taste with salt. Set aside, keeping warm, until serving.
For the Cauliflower Cream, place cauliflower, milk, cream and salt in a medium saucepan and bring to a boil over medium-high heat. Reduce heat to low and simmer until tender, about 25 minutes.
Remove from heat and puree the cauliflower with a stick blender until smooth. Pass through a sieve, season and set aside, keeping warm, until serving.
For the Carrots Roasted in Duck Fat, place ingredients into a small roasting pan. Cover the pan with foil and cook in oven until tender, about 15-20 minutes. Set aside, keeping warm, until serving.
For the Crispy Duck Breast, dry the duck breasts thoroughly with paper towel, lightly score then season duck breasts with salt.
Place, skin side down, in a cold frypan. Set the frypan over medium heat and cook until the skin is rendered and has a nice even golden brown. Briefly turn and sear the other side then turn skin side down again. Place in oven to cook for 8-10 minutes, or until cooked to your liking. Remove from oven and set aside to rest for 10 minutes.
To serve, place a spoonful of Cauliflower Cream onto each plate. Slice Crispy Duck Breasts in half lengthways and add to plate. Add roasted carrots and pickled carrots and season with salt. Drizzle with Date Jus.