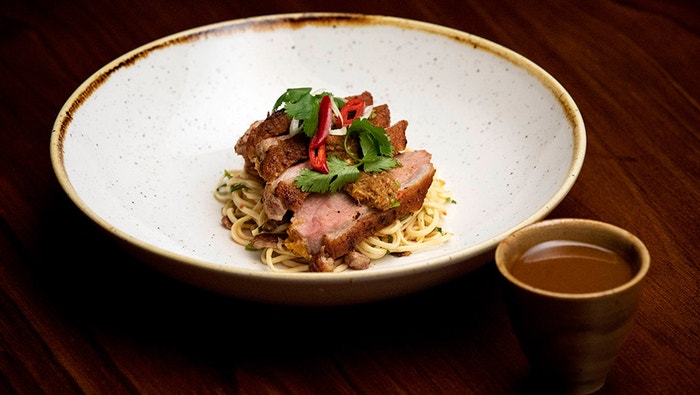 Steps
Preheat oven to 180C.
For the Duck Sauce, chop duck carcass into small pieces and place into a large frypan. Place over medium heat and cook, stirring, until browned and fat has rendered out, about 10 minutes. Add lemongrass, coriander roots and red chillies and cook, stirring occasionally, for 4 – 5 minutes. Add 1 litre of water and cook until liquid has reduced and has thickened slightly. Add vinegar, sugar and a pinch of salt. Strain the sauce through a fine sieve into a small saucepan, reserving solids.
Set saucepan over medium heat and simmer liquid until has reduced and thickened. Remove from heat, add butter and whisk until combined. Season with salt and set aside, keeping warm, until serving.
Remove any duck meat from reserved stock solids and set aside for Noodles.
For the Noodles, mix the flour and egg together in a medium bowl to form a dough. Transfer to a clean, lightly floured bench and knead for 4 – 5 minutes. Wrap in cling film and allow dough to rest for 20 minutes.
Knead the dough briefly, again, and divide into two portions. Pass a portion through a pasta machine from thickest to thinnest setting then pass through the spaghetti attachment. Toss noodles lightly in flour and set aside until serving. Repeat with remaining portion of dough.
For the Duck, place lemongrass, chillies and coriander roots into a small food processor and blend to a smooth paste.
Lightly score skin of duck breast, season with salt and place skin side down into a cold, oven proof frypan. Place over a medium heat and cook for until fat has rendered and skin is golden brown, about 10-12 minutes.
Spread 1 tablespoon of blended paste over the duck flesh, transfer pan to the oven and cook for 8-10 minutes. Remove pan from oven. Turn duck breasts over to sear for 1 minute then remove from pan, reserving pan juices, and set aside to rest for 5-10 minutes, before serving.
To serve, cook the Noodles in salted boiling water until just tender, about 2 minutes. Drain well and transfer to a medium bowl. Add the reserved duck meat, chilli, coriander stem and salt and toss gently. Divide into 4 serving bowls. Slice the Duck and add to the bowls. Drizzle with pan juices and garnish with chilli, lemongrass and coriander leaves. Serve Duck Sauce on the side.